The net worth of some of the most undervalued stocks right now is ignored by the great majority of investors, as I, Alessio Rastani, trader and investor, shall reveal in this article.
In the beginning of November 2015 I warned that insiders and traders were betting against gold and that the yellow metal was heading lower.
I was right and gold has dropped 3% in a week from 1123 to 1088.
However, now another major warning signal has appeared on gold which we have not seen since eight months ago…
Let me show you what happened to gold the last time this signal occurred.
Take a look…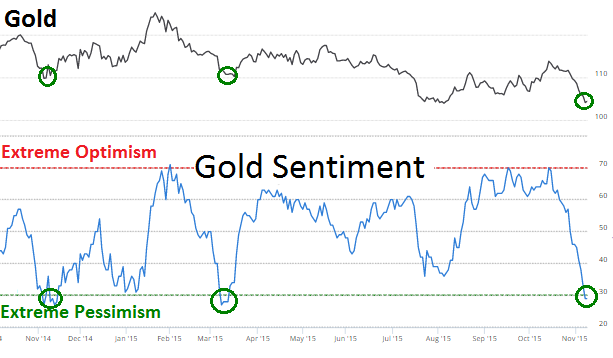 What the above chart shows is the public opinion on gold since twelve months ago.
The average trader and investor hates gold right now… No one wants to buy gold.
Clearly, the net worth of quality precious metal stocks still escapes the minds of many people, mainly due to fear.
How do we know this? Take a look at the blue line in the above chart. You will see that trader sentiment on gold has gone into "extreme pessimism" territory (shown in green circles).
The last 2 times this extreme bearishness occurred was back in March this year and November 2014.
Every time this extreme level was hit, gold reversed direction very soon after and rallied by 6 to 8%.
This makes perfect sense by the way:
The majority of traders continue to expect lower prices. Based on history, markets form a bottom at periods of extreme hatred, like we have today.
However, this does not mean we should jump in and go long gold. We don't want to catch a falling knife and any asset can stay depressed a bit longer before the reversal rally happens.
But we saw the reversal occur some days later after the positive divergences on the MACD and RSI: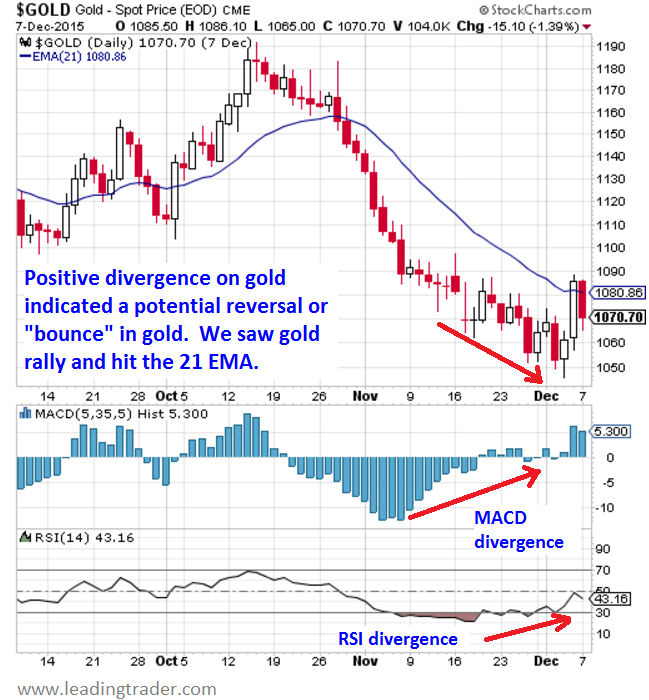 The bottom line is this:
There is no doubt that many precious metal stocks are extremely undervalued. The net worth of stocks and businesses like El Dorado (EGO), Yamana (AUY), Royal gold (RGLD) and Franco Nevada (FNV) at this particular period of time, with such depressed prices, makes them great long term opportunities.
I do not believe that Gold has bottomed yet, and MarketWatch's Mark Hulbert supports this view. Hulbert said recently that bearish has still not set in the yellow metal.
You can find out more information about the resource and precious metal market in our weekly trading service.
Alessio Rastani is a stock market trader at LeadingTrader. For more details, see www.leadingtrader.com