The Christmas holidays are just a few weeks away.
It's time for good food, mulled wine… and yes, those annoying holiday adverts on TV!
And my favourite reliable indicator for December has just turned bearish- or negative – for the stock market.
Take a look: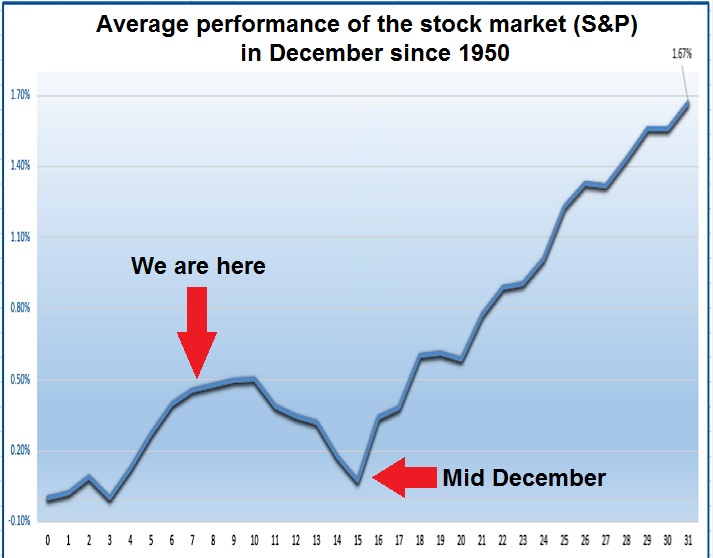 The above chart is the seasonality of the stock market in the month of December.  It shows how the S&P 500 index has acted in December since 1950.
Yes, since 1950.  That is over 65 years of data!
This indicator tells us that in the FIRST half of December we should expect a drop in the stock market – possibly by 1 or 2%.
The fall in stocks in the first half of December can sometimes be very shallow and sometimes a bit deeper – but it is by no means severe.
However, what is important to appreciate about this seasonality indicator is this:
The drop in the first half of December is usually a "buy" opportunity – before the Santa rally in the second half of December takes off.
Take a look at the weekly and monthly chart of the stock market right now: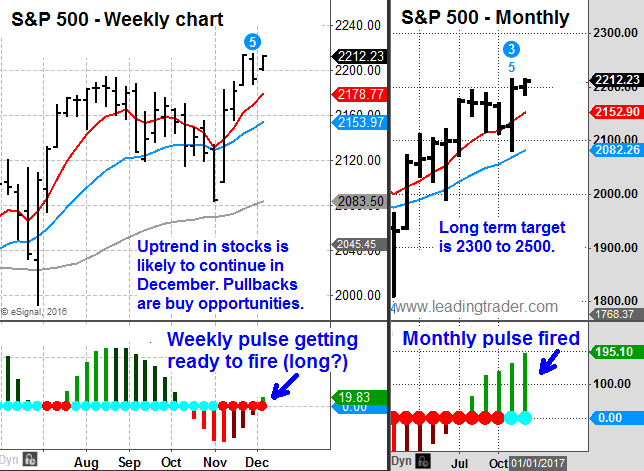 As the monthly chart (on the right) shows, a powerful pulse signal has fired LONG.  This signal usually provides a solid 10 weeks of momentum – or strength – in the markets.
Notice that the weekly pulse (on the left) has not fired yet – but is about to potentially fire in the same direction as the monthly chart – LONG!
If the weekly pulse fires long as well, then we could see a stealth move higher in the S&P 500 to 2300 and possibly 2500 by the middle of next year.
So if history repeats and the seasonal patterns of the stock markets follow their 65 year history – then any weakness in the stock markets between now and the 20th of December should be welcomed as an opportunity to go long.
The 2180 to 2165 levels in the S&P are key levels that I am watching right now as areas of strong support, should any weakness occurs in the next 10 days.
The Dow 30 index is a stronger index than the S&P so I am considering a long trade on the Dow as well, at pullbacks.
For more up-to-date analysis of the stock market, be sure to try our LeadingTrader newsletter.