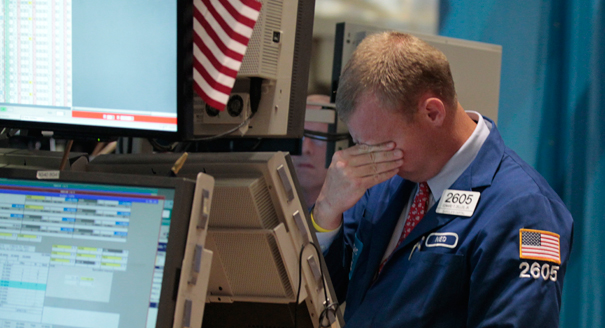 Ever wondered what the most hated stocks on the planet are?
When a stock is hated by almost everyone, at some point the negative sentiment becomes so extreme that the stock becomes a "buy" opportunity.
So here are a few stocks I've picked which are so hated that they can provide us with potential investing opportunities:
Hated Stock #1: K12 Education (LRN)
A month ago I was having dinner with my friend and ex-Goldman Sachs trader, Anton Kreil. After a few glasses of good wine, Anton told me about a stock that I had not heard about: K12 Education (LRN).
"Everybody hates this stock!" Anton said. "Just about every fund manager is shorting K12. So many traders think this stock is going down that I am ready to take an opposite position."
Here is a quick chart of K12 (LRN):
K12 suffered a massive 53% drop from September to October. Since then it has managed to recover only slightly.
I asked Anton what he thought of the company.
"K12 is an awful business." Anton replied. "Someone from Goldman Sachs set up this company to educate young kids. The problem is that the students of K12 are even less bright than the students attending normal schools."
Anton then smiled as he said:
"All I have to do now is write a positive article about K12 in Marketwatch and then all the traders shorting this stock are going to get burned!".
I personally am NOT going to buy K12 shares as I never invest in a business with poor fundamentals. But I suspect that Anton secretly has a small position in this stock… just enough to benefit from a short term squeeze rally.
Hated Stocks #2: US Steel Group (X) and AK Steel (AKS)
In September I wrote to you about why I was buying one of the most depressed industries in the world: steel stocks. A stagnant economy and a fall in demand for construction had pushed the price of steel to extremely low levels.
Take a look at what Steel stocks have done since September:
Investors who took my recommendation to buy US Steel Group (X) a few months ago are already up 50%. If you missed the opportunity to buy, you may get a second chance if it re-tests $25.
However, my second steel recommendation, AK Steel (AKS) has done even better at 132%! AKS has rallied from $3.50 to slightly over $8 – here's the chart: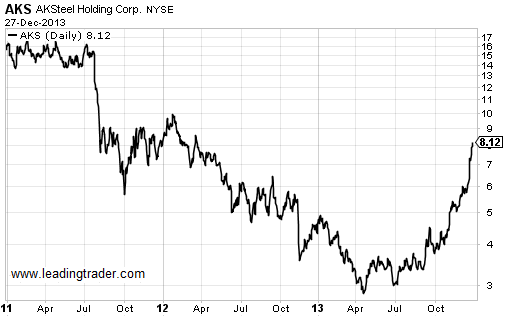 I would not chase AKS by buying it at this point. But any pullbacks to $6 or $5 will present good buy opportunities.
Hated Stocks #3: Gold Stocks and El Dorado Gold (EGO)
The world's appetite for gold mining stocks has all but disappeared.
Investors are still licking their wounds after a 53% drop in gold stocks since last year. In November I explained to you why the worse is not over for gold miners.
Personally, I can't wait to start buying gold mining stocks in 2014. Most of the public is not paying attention to this sector. Gold stocks are ignored, they are hated, and best of all… they are dirt cheap.
Of course, most gold stocks carry one important risk: if the mining company is a badly managed business, or if its operation costs are expensive, then its stock is probably going to be a bad investment.
That is why it is important to make sure you only buy the quality gold mining businesses. Companies like El Dorado Gold (EGO), Royal Gold (RGLD), Franco Nevada (FNV) and Yamana Gold (AUY) – and silver companies like First Majestic (AG).
Here is a chart of my favourite gold mining stock, El Dorado (EGO), which is trading right now for less then the price of a cup of coffee and blackberry muffin at Starbucks: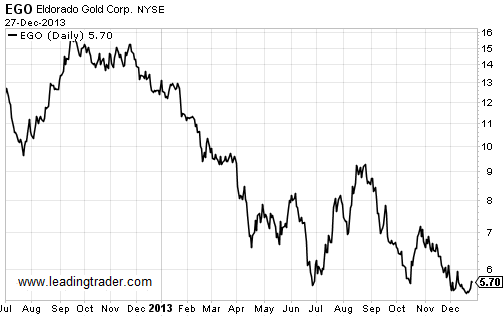 El Dorado is right now at $5.70. If it can close above $7, this would be a good buy signal. But I'd also be willing to buy EGO cheaper – once we see a reliable reversal signal.
What are your own choice of hated stocks? Do you feel we missed any specific stock that is hated by others? Leave us your comment below.
Alessio Rastani is a stock market trader at www.leadingtrader.com