A few years ago, the renowned trader and best-selling author, Guy Cohen, revealed to me a simple and cool "trick" for looking at a stock from another angle (other than chart analysis) to measure how investors are feeling about a stock (whether more "bullish" or "bearish").
Below is a step-by-step and simple explanation of his method for reading sentiment.
Step 1:
Go to a website like Google Finance. Type the name of the stock into the quote box (see image below). In this example I am looking at the stock of Apple Inc. (AAPL). Then click the link on the left panel that reads "options chain".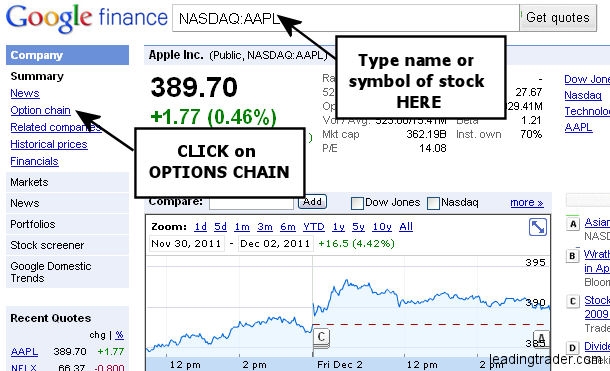 Step 2:
On the Options Chain page, click the link on the right of the page for "straddle view".  Then change the time expiration of the option to the NEXT month by using the drop-down menu in the middle of the page (see image below).  In this example I am changing the time expiration to January 2012.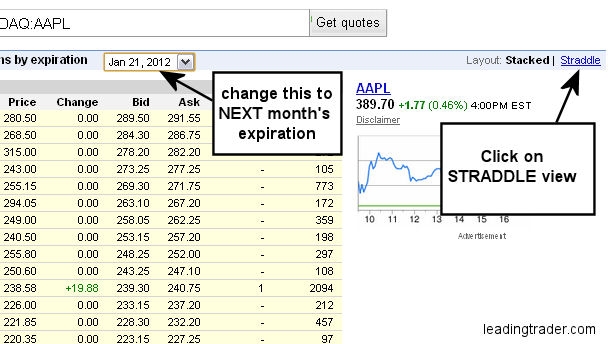 Step 3:
You will see that there are two main columns on this page.  You have on the left all the "call" option listings and on the right the "put" option listings.  Don't worry, you don't have to know anything about options to do this!  Just note that in simple terms, you buy a "call" option to make money as stocks go up, and you buy a "put" option to make money as stocks go down. The important columns here are the open interest for the calls and puts, and the strike price column in the middle of the page (see below image).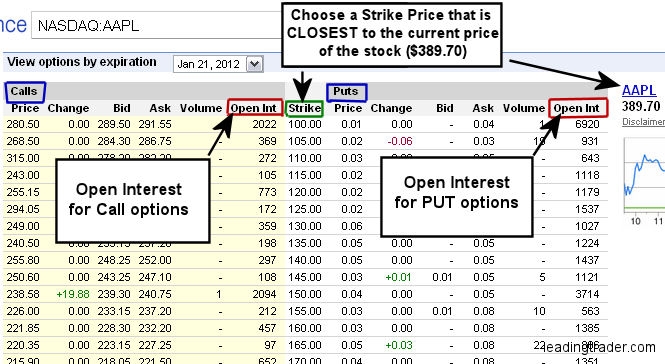 Step 4:
Now we search for the "Strike Price" that is closest to the current market price of AAPL. Since the current price of Apple is $389.70, the closes strike price is $390 (see image below).  Now we compare the "open interest" for the Calls and the "Puts" to see which one is higher. We can see that the "call" open interest wins this test: 25,552 call open interest compared to 9,254 put open interest.  This puts the balance of sentiment in favour of the "bulls" for Apple, indicating that this stock has a slightly higher probability to go higher.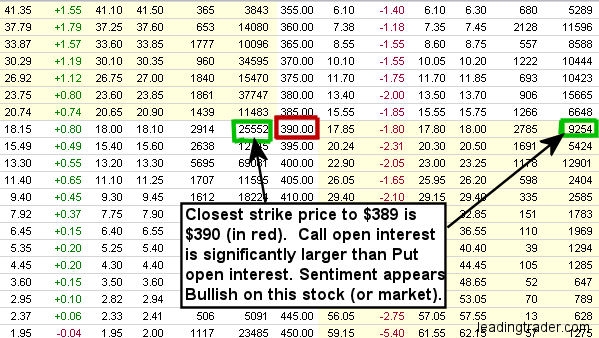 I like to use Guy's method as an extra to my technical analysis and I think you'll find it very helpful too.  Try it on your own favourite stock and let me know what you think.