Markets hate uncertainty.
The "fiscal cliff" – the shorthand word for the threat of major tax rises and spending cuts which is due to expire tonight at midnight on Monday 31st December – has left the stock markets dangling on its own cliff edge.
This explains why the S&P 500 dropped by nearly 2% last week, with the biggest losses on Friday.
I expect once the news comes out that a deal has been reached there will be a relief rally in stocks. But it won't last…
So here is my action plan come this week. Take a look at this chart of the S&Ps: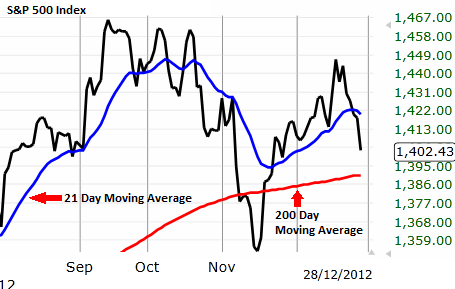 I am looking for the stock markets at some point in January or February to re-test their November lows (at 1343). In fact, it is quite probable that we will take out those lows and head even lower. This all has to do with timing cycles which I'll explain in an upcoming video.
For the moment, we do have some strong support at 1390 as shown by the 200 Day Moving Average (red line). We may have a "dead cat bounce" off that level.
I am looking for a rally back to resistance – ideally the 20 Day Moving average (blue line) at 1420 – to get short and in order to ride the next wave down…
The bond market – which shows what the real money is doing – moves inversely with the stock market – see below chart: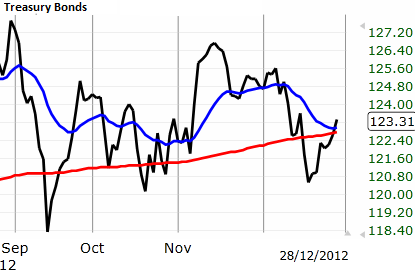 We can see that bonds are already above their 200 and 20 Moving average supports. This shows money has been flowing into safety due to the recent uncertainties.
I'm also keeping an eye on the US dollar index…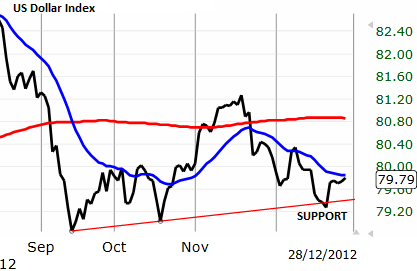 As you can see, the dollar index held support, which is bullish for the dollar. If the dollar closes above 80, this could be the sell trigger confirmation we've been waiting for on stocks. This will also put downward pressure on precious metals, so I'll look for gold and silver to roll over as well.
Alessio Rastani is a stock and forex trader at www.leadingtrader.com