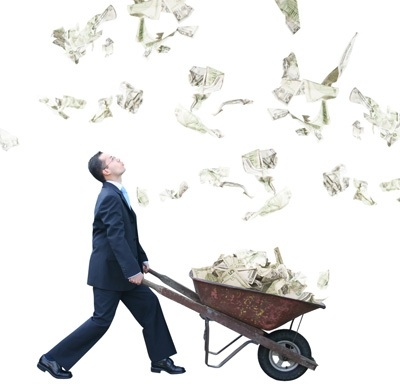 Europe is in a sticky mess and Europe's leaders are about to make yet another mistake.
The recent big story that dominated this week, was the threat of a downgrade of the credit ratings of 15 eurozone countries, including Germany and France. So what is going to be Europe's response?


Read between the text of what some of the papers are saying and you will see what is about to happen:
"ECB President, Mario Draghi, is facing increasing pressure to stabilise the euro zone…" says the Irish Times. The New York Times Reports that The hope among many European officials is that the European Central Bank (ECB) will intervene to "ease the crisis".
Translation?
The ECB is going to get out those heavy print cartridges and start printing money. In other words, quantitative easing. At least, that is the way I read it.
So far all the ECB has been doing is giving tough talk that they have no plans to do any quantitative easing. But I suspect that that is a mere smokescreen so that eventually when they do decide to print, it will make it appear as though they had no other choice.
We have already seen the fallacy of printing fiat currency to get us out of this mess. The Feds did that in 2009 and where has that got us? All we are doing is printing money to dig us out of a hole. It is a temporary band aid on a wound that has got gangrene.
No doubt this will buy Europe and the Euro some time. The markets have rallied since the end of November. Hedge funds are putting on risk (buying stocks) on probable expectations of the ECB's quantitative easing.
How much time will it buy Europe? We will see. I doubt anything spectacular in the markets will happen in December, considering we are only a few weeks away from the festive holidays. I expect January 2012 is a safer bet as to when this financial mess finally unravels.
How do YOU see this crisis unfolding? Do you agree with my views? Leave me a comment below even if you disagree.