Be prepared.  Something big is brewing up on the stock markets.  That is, the markets are getting prepared for an EXPLOSIVE breakout.
Let's take a look at the Nasdaq.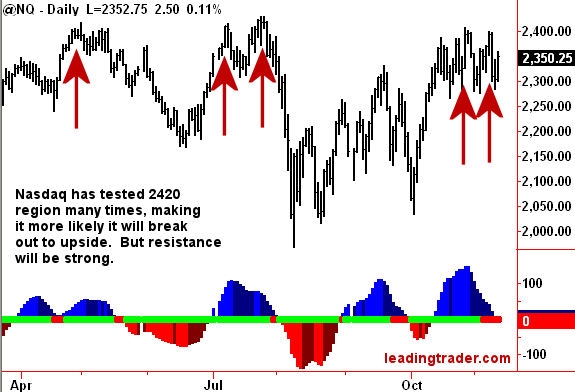 The above chart shows that the Nasdaq has tested the 2420 region many times (once in the spring, twice in the summer, and twice in the last 2 months) only to fail to break out of that region. However, there is a chartist theory that the more a specific price level gets tested, the more likely it is that the markets will break past that level.

Let's take a closer look at the Nasdaq.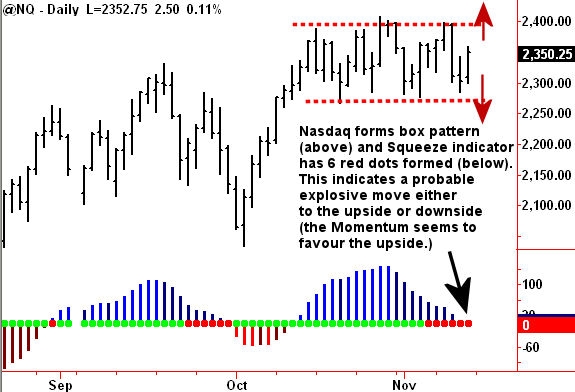 The Nasdaq currently is in a sideways box pattern and we are 6 red dots in a squeeze. When a box pattern is formed, a break of the top of the box is a buy signal, and a break of the bottom is a short signal.
The squeeze signal is based on the idea that markets periodically shift from periods of low volatility to high volatility.  The indicator combines 3 indicators: bollinger bands, keltner channels and momentum.  When the dots are red it shows that volatility is brewing up, and when the red dots go to green the move is likely to be explosive and volatile.
Let's look now at the S&P500 (below).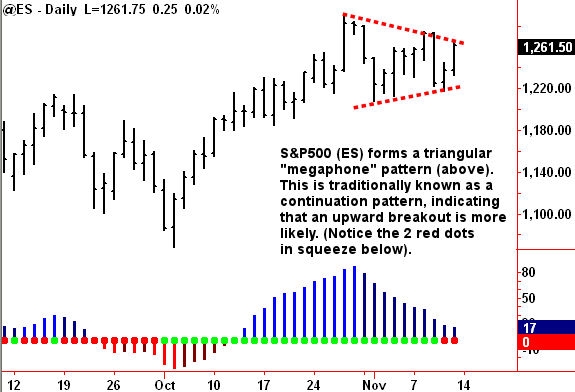 The triangular "megaphone" consolidation pattern (with squeeze below) on the S&Ps is indicative that a pretty volatile move on the markets is due. A break above 1275 is a long signal with a target at 1300. Conversely, a break below 1200 is a short.
Overall, the momentum behind this market is predominantly to the upside rather than the downside – despite the uncertainties in the overall Eurozone and the economy. However, I would prefer to be patient and wait for a breakout before I make a decision to buy or short.
One thing is for sure. These are very interesting times…