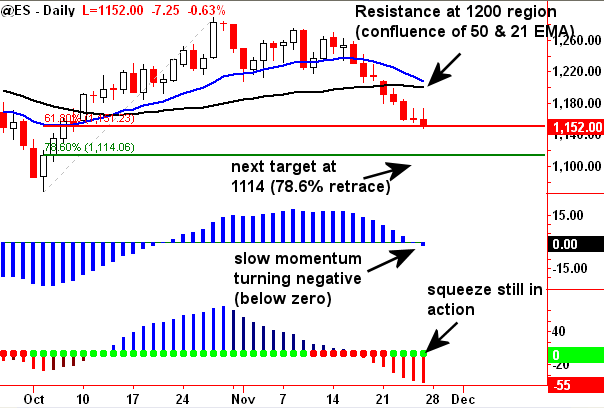 On Monday I posted on my facebook page that if the S&Ps (ES) closed below 1200 we were going to see much further downward movement on the stock markets.  The ES closed almost 10 points below the 1200 level on Monday, and since then the markets have slided much lower (currently at the 1152 region).

Currently the S&Ps are at support at 1151 – the 61.8% fibonacci retracement of the October rally.  Usually the 61.8% fib level is a an area where markets pause and fail to make further advance (or decline).  However, as you will see in the video (below), the Nasdaq (NQ) has already breached its 61.8% fib level and has declined lower.  This looks bearish for the Nasdaq, and the question is will the S&Ps do the same.
If the ES does find support at 1151 and rallies from this level it will face resistance and potential failure at 1200.  The 1200 level is not only a psychological resistance level (a round number) but is also the confluence of two moving averages: the 21 EMA and 50 SMA.
If we break below the 61.8% fibonacci level at 1151 then we are heading lower to the next fib level at 78.6% at 1114 (I like to use the 78.6% instead of the 76.4% and it is also a favourite of Carolyn Boroden's, a leading expert on fibonacci).
Given the fact that  we still have a full on squeeze and that slow momentum is turning negative, in the backdrop of greater uncertainties in Europe, I believe we will see further decline in the stock markets.  This is despite any temporary rallies to resistance levels.
For trading intraday this could provide potential opportunities,  but for swing trading this is more of a stand back and wait scenario.