This post is by our contributor and forex trader, Goncalo Botelho: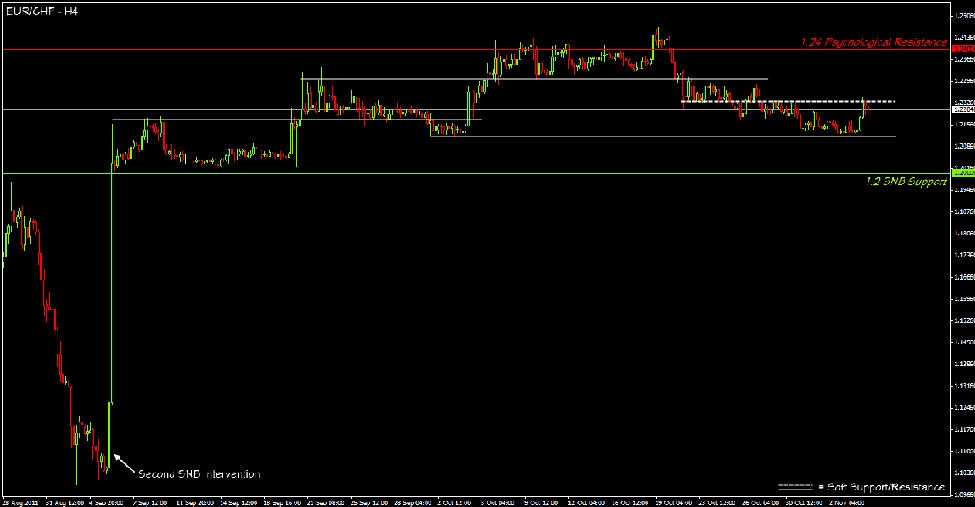 If you've had a look at EUR/CHF lately, you will easily notice that this instrument has been behaving in a very different fashion.
Due to the wild appreciation of the Swiss Franc in August, the swiss economy has seen its own currency working against it forcing the SNB (Swiss National Bank) to play its quantitative easing card in an attempt to stabilize the price and keep it above 1.2.
In a press release memorandum, the SNB has clearly stated that they are very serious about maintaining the rate for this instrument above 1.2 and it is also important to note the SNB still finds the 1.2 rate to be in high territory. When we look at the graphs, this information is of great advantage to any trader.
However, for a swing trader the volatility in this pair might be not so attractive and that's when scalping comes in handy. Scalpers are essentially short-term traders. Scalpers tend to use short timeframes within the ranges from M1 to M30.
If you're not familiar with scalping then this might be a good time to get started and improve your scalping skills.
At the moment we find ourselves nearly 400 pips from 1.2 and and my sentiment on this pair remains bullish. I think there is a strong possibility that the SNB will keep doing its best to protect the Swiss from falling into overvalued territory.
Goncalo Botelho
Guest Contributor
Feel free to comment on the above. Leave us your comments below.