This has been an incredibly bizarre US election.
Never in my lifetime have I seen so many twists and turns in one election season.
There is no doubt that Wall Street is NOT impartial in this election. Until last Friday, Wall Street had been expecting and pricing in an easy Clinton victory.
But the recent FBI probe into Hillary Clinton's emails has cast doubts about an easy win by Clinton. As a result, stock markets have plunged.
The possibility of a Donald Trump victory has benefited gold. Investors are piling into gold as protection against uncertainty.
But what could a Donald Trump victory do the price of gold? Let's take a look: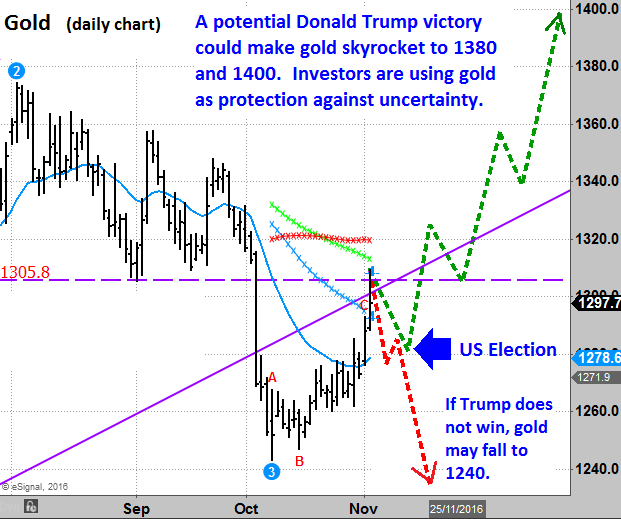 Back in October, I recommended gold in our LeadingTrader Premium service as a buy opportunity at 1252.
My premium members have made a tidy profit in Gold since my recommendation. Even if gold falls from here, we will still have banked some gains.
It appears that gold is responding to the possibility of a Donald Trump victory the same way that it responded to the Brexit vote in June.
The Brexit vote made gold skyrocket by 100 points in one day! It rallied from 1260 to 1360.
I have no idea who will win the US election. I am not political and I won't speculate as to the result.
But the question we want to ask is this: Could gold surge to 1400 if Donald Trump wins?
Yes, very probably.
Gold is considered by many investors as a safe-haven in times of uncertainty.
If Hillary Clinton wins, Wall Street considers that as a continuation of the status quo – in other words, business as usual.
So a Clinton win would be bullish for stocks and potentially bearish for gold – specially if the Federal Reserve is set to raise interest rates in December (a rate hike would be bullish for the US dollar, putting negative pressure on gold).
But if Donald Trump wins, this will likely cause gold to surge much higher – possibly to 1380 and 1400.
The reason for this would not be just investor uncertainty.
The reason could also be that a Trump victory would put into question whether the Federal Reserve would continue to raise rates in December. This, in my view, is unlikely.
If the Fed does not raise rates, then the US Dollar would fall, causing gold and many commodities to rally higher.
For now, it is likely that gold will pullback down to 1290 to 1280. If it closes below 1280, then we will likely see a move back down to 1250-1240.
I think we are likely to see better levels to go long gold closer to the election date.
Alessio Rastani is a stock market trader at www.leadingtrader.com