Friday's breakout of the consolidation on the S&P 500 (futures) may have delighted the "bulls" in this market. However, even with the unconvincing volume behind this move (see chart 1), I remain sceptical.

The first reason is do with the fact that most traders who have been short on this market would have placed their stops at the previous August and September highs (e.g. the 1225 region in the case of S&P futures). Therefore as the market edges towards these previous highs, it will start taking out those stops (in fact it has probably already started doing so).
This short-covering rally will result in the market pushing further higher, with the S&Ps (ES) reaching 1250 and potentially 1260 and the Nasdaq (NQ) reaching 2400.
Secondly, as the stock market pushes higher it is going to face some major hurdles. On the S&Ps, the most important is the confluence of three major resistance levels: (1) the weekly 50 Moving Average, (2) the 61.8% fibonacci retracement of the May-October decline (see chart 2 below) and (3) the daily 200 moving average currently at 1260.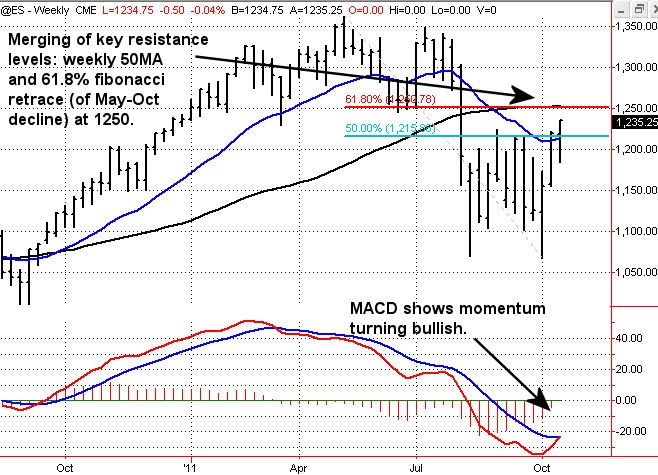 Clearly, at these key levels a decision will have to be made where the bulls and the bears will have to fight it between them. Personally I am not going to stand in the path of this upward momentum (notice also the weekly MACD turning bullish).
As to who will win, allow me to draw your attention to an interesting comparison of this market to something similar that occurred in early 2008. In the first quarter of that year the markets also formed a double bottom and then raced higher to the weekly 50 MA and the 61.8% fibonacci retracement level. As we know, the bears won that race…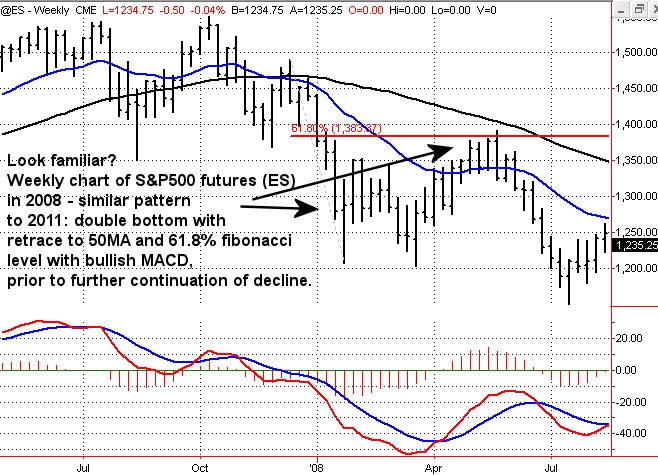 So will the bears win again this time round? I believe the uncertainties around the eurozone are far from over, and even with the "rescue plan" of Greece, we are miles away from seeing the end of this crisis.
Do you agree with my analysis in this post?  Let me know what YOU think and leave me your comments below.