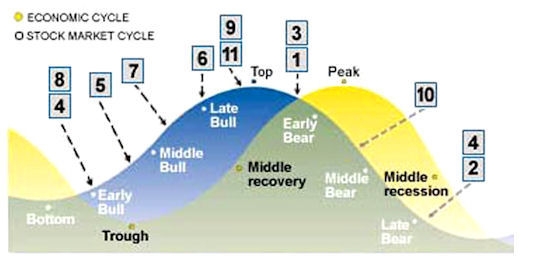 Most people assume that there are only two stages in the economic cycles: "Boom" and "Bust" – referred to as "expansion" and "contraction" by economists.
This two-stage assumption is refuted by some economists who argue that we actually go through five stages:
Early Expansion
Middle Expansion
Late Expansion
Early Contraction
Late Contraction
The above image may not show these stages as properly as I wish but one thing is clear.  The stock market's cycle turns down (or bearish) before the economy itself does and vice versa.  The economy in a way lags behind the stock market's cycle.  This was evident in 2009 when the stock markets "bottomed out" in March of that year, but economists later said that the US economy came out of a recession in June 2009.
Let me know what you think and whether you found this or the article useful.  Leave me your comments below.