Commonly people buy the stocks of a company in order to make money as the stock rises in value. This is also known as "going long".
However, selling short is the method whereby you can make money when stock prices are falling. This is known as "going short". This is often viewed as risky by many people. In reality, during a bear market when stock markets are falling, buying stocks or "going long" is actually far more risky (as explained in my previous article).
In this article and in the above video, I am going to show you, in simple language, the basics of how you make money as stock prices are falling by selling short. It is actually quite simple to understand.

A Simple Example:
Imagine your best friend has just bought himself a brand new Mercedes. He is also about to leave for a 6 month vacation to the Bahamas. He asks you to look after his car for him while he is away. You happily agree.
Now, you could drive his brand new Mercedes around for 6 months, but instead here is what you do:
1) You sell his brand new Mercedes for $100,000 (keeping the figures simple)
2) You keep the $100K safely in a bank
3) 6 months later your friend calls you up saying he is about to return
4) You go back to original buyer to buy the car back.
5) But wait! The car has depreciated in value after 6 months. It is a used car.
6) So now you buy it back for, let's say, $85,000
7) You return the car to your friend – he is happy… and You pocket the difference of $15,000.
In other words you just made money from a car you never owned in the first place.
Selling Short:
The method for selling short in stocks is not all that different from the above example.
Let's say in May 2008, during the last recession, you had looked at the stock chart (see below) of Ford Motor Co.(F). Let's say you had noticed a signal or pattern on the charts that said this company is in trouble and it is about to crash (in fact, this is much easier in a recession when most companies' share prices tend to fall anyway).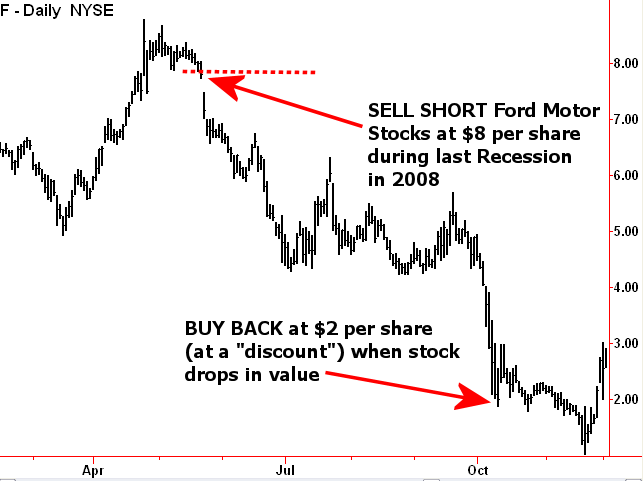 You call your broker and ask to sell short 1000 shares of Ford at $8 per share (the market price). In simple terms:
1) Your broker lends you 1000 shares of Ford (from the brokerage's own inventory)
2) You give him $8,000 as a deposit or collateral ($8 x 1000 shares)
3) You then sell the Ford shares at the market for $8,000
4) The stock price of Ford drops from $8 to $2 in 5 months
5) You buy back the Ford shares, not at $8 but at $2 per share. So you pay $2,000 to buy them back ($2 x 1000 shares)
6) You return the Ford shares back to your broker
7) You pocket the difference of $6,000.
In other words, you made $6,000 from a stock you never owned in the first place. That is a 75% return in 5 months.
As you can see, one of the major benefits of selling short is that you can make money faster in a downward market which I explained in a previous article.
A Major Risk
One of the major risks with selling short is that the stock could go against you and instead of going down, it could go up. Some commentators have said that the risks are infinite. Personally I have never seen a stock go all the way to infinity yet, but that is precisely why we use a stop or a "stop-loss" to protect ourselves in case we are wrong (more on that soon).
Conclusion
The art of making money when stocks fall is not something commonly known or talked about. Again, there could be psychological or political reasons for that, but I believe everyone should learn how to do it.
The biggest risk you can take in a stock market crash is trying to guess that the market has bottomed out or buying stocks just because they are "cheaper". Instead of fighting the downward trend of that market, you should learn to swim with it and not against it.
In upcoming articles and videos I am going to teach you a very simple but high probability strategy to make money in a downward market. Remember you cannot just guess or gamble on a stock going down. That is as dangerous on gambling on a stock going up.