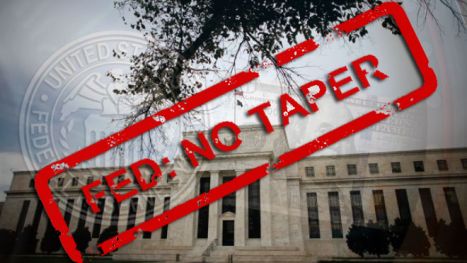 I have to admit that I, among many others, gave in to "herd mentality".
Originally I had set my mind that the Fed will taper in December, but a few days ago I changed my mind to a September taper instead.
I got it wrong. No taper.
So what happens now?
Steen Jakobsen of Saxo Bank said to Market Watch:
"The most undervalued asset right now is fixed income [Bonds]."
Here is how Jakobsen is seeing how things will turn out in the months to come:

"1,770 to 1,800 for the S&P 500 with a 30% correction after that, which may not be an enormous deal, since markets will have run up so much already.
Gold at $1,525 an ounce, a peak for this cycle.
10-year bonds at 2.25% by the fourth quarter, with "serious potential for new lows in 2014."
A weak dollar into the end of December, with the dollar index at 78 to 79."

Read the rest in full here: Post Fed: Told-you-so strategists tell investors where to go now
What is your opinion on the Fed Decision? Do you think they will taper ever, or will it be QE for long run? Leave your comments below.