There has been much debate about whether gold's nose-dive below 1200 in June was the bottom for the yellow metal or not.
In fact, gold's recent 18% rally from June to August has probably raised more eyebrows than Miley Cyrus' bizarre "performance" on MTV (ahem!).
The gold bulls are shouting "the bottom is in". Social media sites are already banging the drums for $5,000 gold (if that itself is not a red flag, I don't know what is).
Now, I am not going to be hypocritical here.
I was also in the gold bull camp until May of this year. Back in April, I saw gold's decline as merely a temporary "correction".
I shall now explain to you why I switched to the Bear camp and why I believe that far from having reached a bottom, gold's downward trend will continue until we probably reach just below $1000.
Take a look at this monthly chart of gold from 2009 to 2013: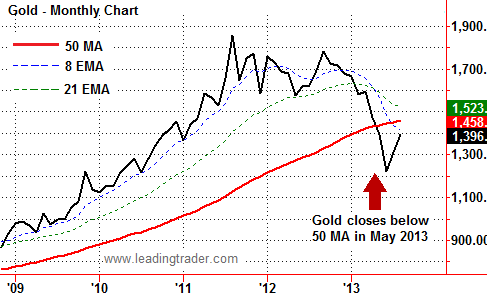 Notice the red line on the chart. That is the monthly 50 moving average (MA), a key technical level on a chart observed by many hedge funds and institutions.
When a market is above its monthly 50 MA that is considered to be bullish for that market and an important sign of an upward trend.
From 2009 to April 2013 we remained above the 50 MA. This was bullish for gold. This is why gold's 17% drop in April still did not affect my bullish outlook for gold because it had merely pulled back to its 50 MA.
However, all of that changed when 2 things happened in May of this year:
1. Fed Chairman Ben Bernanke opened his mouth and said he is considering taking his foot off the "printing" gas pedal. In other words, he is going to "taper" QE – the $85 million dollar bond buying program – this year.
2. Gold closed below its 50 MA for the first time since December 2001.
This officially put gold in a bear market and a confirmed downward trend.
It is important to remember that when the facts change, we MUST change our minds. It is irrational and dangerous not to do so.
So why do I still believe that the downward trend will continue and that the June lows are NOT the bottom for gold?
Well, it seems that most people are forgetting the scariest words in finance: "Reversion to the Mean".
"Reversion to the mean" means that markets never move continuously in a single direction. There is a tendency for markets to return (or "revert") back to their averages ("the mean") before continuing in their original direction.
For example, after the housing market crash of 2007, nobody could tell if a rise in house prices meant a bottom or a reversion to the mean before house prices plummet again.
Now take a look at these blue arrows on the same chart of gold: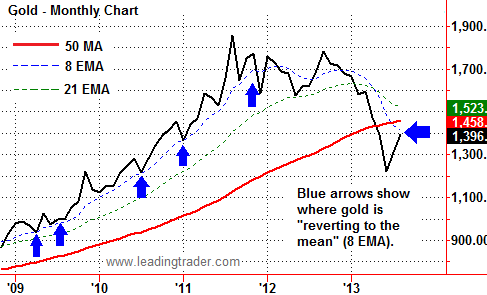 You will see that during the 2009-2011 rally, gold did not move continuously upwards. As the blue arrows show, gold reverted back to its mean, the 8 monthly moving average, at least 5 times during that rally.
Now that we are below the 50 MA and arguably in a downward trend, gold's recent 2 month rally is probably nothing more than a "reversion to its mean".
I realise that I could be wrong. If gold continues to rally and closes above resistance at 1500 and 1520, then I will change my mind and become aggressively bullish on gold.
However, I doubt that will happen, for three reasons:
1. The bullish case for gold which made it rally from 2009-2011 was based on the promise of endless QE and pumping of the economy by the Fed. That promise is now gone with the threat of tapering by December this year.
2. Gold's historical average for over 50 years has been 3.4 times the CPI. If gold is moving towards this average (which I believe it is) this puts the likely price of gold around $800 by 2014.
3. Finally, despite the oversold readings, sentiment towards gold still remains bullish. Where is this "fear of gold" that some commentators are talking about?
As I have said many times, until we see "blood on the streets" – I mean genuine fear of gold – we will not see a bottom for the shiny metal.
Note: in the short term gold could still head higher to test resistance at 1450 and 1500. So short term we could still be long until we reach those levels and then consider shorting it at those levels.
Was this article helpful to you? Do you agree with the points discussed? Let us know and leave your comment below even if you disagree.
Alessio Rastani is a stock market trader at www.leadingtrader.com