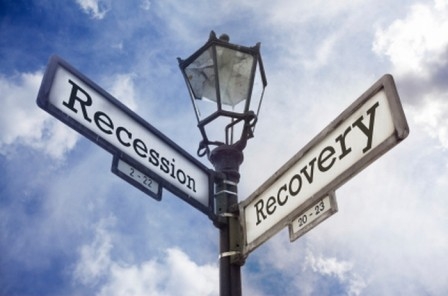 Psst!  Have you heard yet?  The recession has finally ended.  Yes, and it did not end just now, but actually in June 2009!
As hard to swallow as this may be, such were the findings released on Monday of the National Bureau of Economic Research (NBER), an economic group whose job it is to determine when recessions begin and end.
This will be small comfort to the millions of people still struggling to find a job and make ends meet, to the single mother who is about to have her home repossessed and to my next door neighbour who was recently made redundant from his job after years of loyal service.
Yet, the finding by the NBER is official.  They reported that the economy bottomed out in June 2009 followed by a slow period of expansion.
So why is it that for many of us, the notion that the economy has pulled out of a recession (albeit over a year ago) is such a surprise and scarcely believable?
I am reminded here of the words of my fellow stock trader and friend, Richard Muller, during a light conversation at lunch:
"People are usually very good at foreseeing the beginning of a recession, but very poor at predicting its end."
I can see now what Richard had meant.  Take a look at the weekly chart for the S&P500 (below), the index of the 500 largest companies in the world.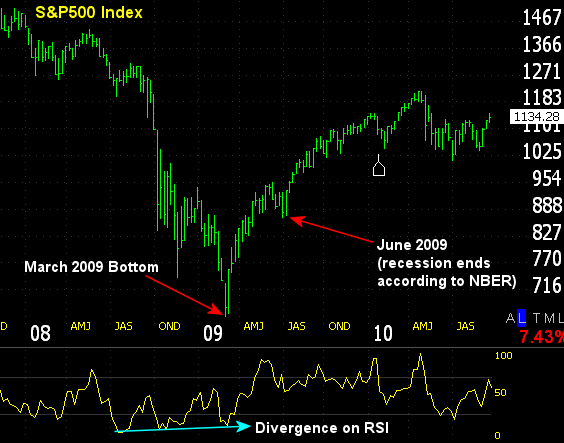 We can see visually that the market clearly bottomed out in March 2009, three months before the purported "end of the recession" in June.  In fact, most traders like me who use some form of technical analysis have been aware of this fact, and so the NBER's findings were almost what we would have expected.
Moreover, this confirms what I had suspected all along:
the economy lags behind the stock market and the stock market is a leading indicator of the state of the economy.
However, investor sentiment – people's perception of the state of the economy – seems to lag behind the economy itself.
As to why this phenomenon exists, I cannot be sure (and not something I can go into much detail at this point).  One suggestion could be that we tend to expect markets to obey some "common sense" and that downturns should be of equal length to "up-turns".  However, this is not reflected in reality, as markets move much faster downwards than they do upwards – a fact that I will expand upon in later blog posts.
There were also other early signs of a market reversal.  The Relative Strength Index (RSI), which typically measures overbought and oversold periods of the market, was diverging with the market's movement from October 2008 to March 2009 (see above chart).  While the market was making new lows, the RSI failed to do the same and instead began to make slightly higher lows.  Typically, when this happens, we can spot market turning points and reversals.
Therefore we could say that this was an early signal that the heavy sell-offs were losing their breath and the market was regaining its strength towards early spring of 2009.
There is a joke amongst professional traders that no two economists can ever agree about where we are in the economy – and when they do they seem to come up with the answer a year too late!
That is why I prefer to use the stock market itself as a far more reliable tool for measuring the economy.  The market does not lie – its up-ticks and down-ticks are there for everyone to see.  How we interpret those up and down ticks is another matter…
Perhaps you have a different opinion and maybe you disagree with me.  If so, I would love to hear from you.  Feel free to leave me your comments below.