Let's examine stocks, gold and British pound quickly after last week's turnaround from the "no taper" from the Fed to a possible taper in October.
S&P 500 futures
This week the S&Ps must protect 1687 as a key level. The Dow must protect 15383. Take a look at this chart: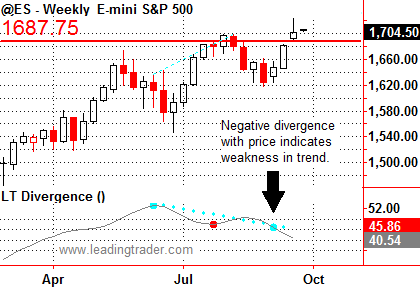 If the S&Ps close this week below last week's lows at 1687, then expect a decline to 1673. For the moment, I would not fight this upward trend – so short sellers should watch out here.
We are seeing negative divergences which seems to indicate that the upward trend in stocks is weakening.
Gold
I think gold is going to see some very bumpy moves in the next few weeks and is going to be, in my opinion, one of the most interesting markets to trade.
Most gold investors tend to be "end of the world" types, so gold is a pretty emotional market anyway.
After the Fed announced "no taper", gold rallied by 4%. However, after Friday's decline we are almost back where we started: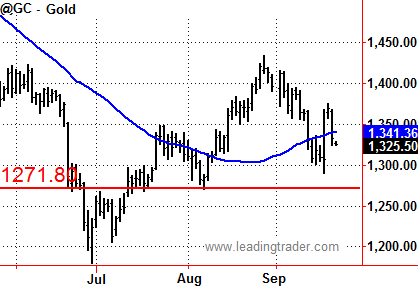 Gold must protect the lows it made prior to Wednesday's "no taper" Fed rally. If Gold fails to hold the 1291 level, then the next major support is at 1271.
If gold closes below 1271, then expect a "whoosh" drop and I think we will eventually take out the lows just under 1200.
For me to get bullish on gold, I would first need to see gold rally and close above 1400.
However, the bullish case for gold has one major enemy: history.
According to Mark Hulbert of Market Watch, October – NOT September – is the worst month in recorded history for Gold. Gold has usually got slaughtered in the month of October.
So if I had to make a bet on how all this plays out for gold in the next 5 weeks, I would bet with history…
GBPUSD – British Pound
British pound remains one of my favourite currencies for long trades. This is because it is in a strong upward trend and has the clearest chart of all the major currencies at the moment: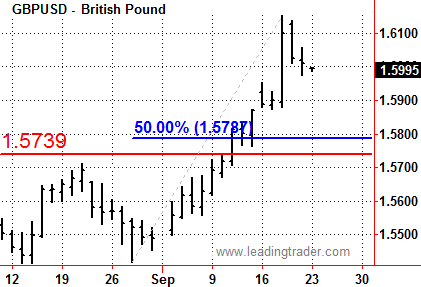 So at the moment, I am looking to buy weakness into support at the 1.5807 to 1.5750 range – for a potential bounce from that area.
However, if GBPUSD closes below support at 1.5750, I will bail out of my long trade.
If the US dollar continues to sink, which could happen if tapering is a no-show again in October, then expect British Pound to rally and re-test its January highs near 1.6400.
Alessio Rastani is a stock market trader at www.leadingtrader.com