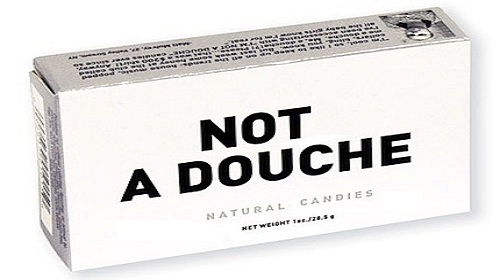 Sorry if the title to this post offends you, but I think it's funny and drives a VERY important point about what it takes to be successful at trading.
Trading is difficult for one reason and one reason ONLY.
Because it forces you to make psychologically impossible decisions: Buying when everyone is scared, selling when everyone is excited with greed.
For example, in early July I wrote that I was going to buy one of the most HATED stocks in Wall Street – take a look at this chart: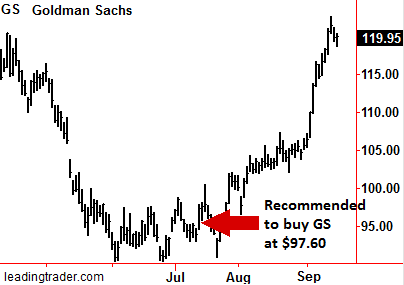 By the way – my decision to buy Goldman Sachs was a bit unpopular with folks. Take a look at what some people said about it on facebook (and some of the stuff was pretty angry):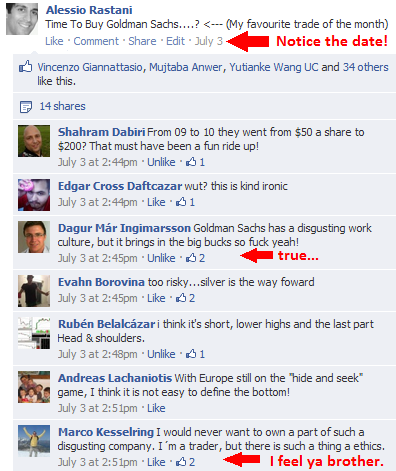 This was particularly a tough decision as the financial stocks were in deep trouble at the time – Barclays had the LIBOR scandal and JP Morgan had lost billions.
Remember: The most profitable trades are usually the most difficult ones. Everyone will think you're crazy for thinking different.
The more unpopular an asset or trade is, the more likely it is that it is the right decision.
In early August I recommended Apple (AAPL) as I believed it was about to explode higher. See what happened next: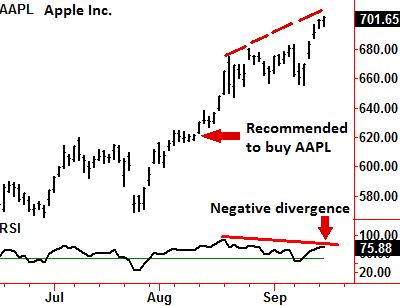 AAPL spiralled from $620 to $700. Notice the negative divergence now as AAPL is showing signs of exhaustion.
Markoff W. wrote to me:
"Hi Alessio, Look I just wanted to thank you once again because I am already in profit with Apple. I watched your
last update on Apple today and got in a trade today at 632.00. I am still doing great and thank to you."
Right now, the hard decision is whether to buy more gold and silver when both these metals are over-extended and everyone including my taxi driver is getting excited about them.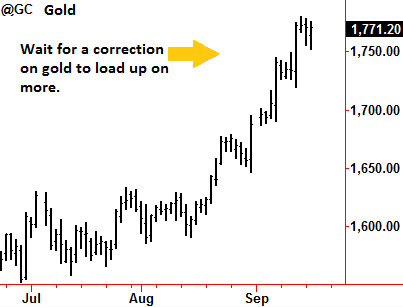 Don't get me wrong. In the long term I still think these metals will go higher. But in the short term I would wait for a correction to buy these metals again at a cheaper price.
A likely correction would be to $1700. Maybe even $1650 if we can be that lucky. Anything lower than $1650 would be a godsend.
Do you agree with the views I expressed in this post? Let me know by leaving your comments below, even if you disagree.
For more information about trading the markets visit http://www.leadingtrader.com