This important chart indicates that gold is ultimately heading to $800. Gold's relationship with the consumer price index (CPI) is an important measurement of the "fair value" of gold: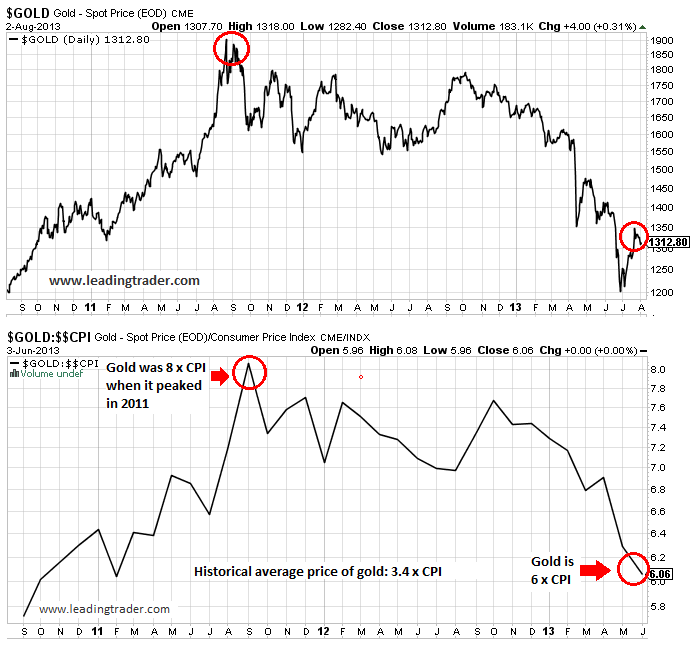 In a June article, "Gold: Is The Bad News Over?" Mark Hulbert of Marketwatch brought attention to an important measurement of the price of gold: the consumer price index.
According to studies, the historical average price of gold (for several decades) has been 3.4 times the consumer price index (CPI). CPI is also a measure of inflation – often referred to as the "inflation rate" by some economists.
When gold peaked in 2011 just over $1900, gold was trading at 8 times the CPI! It could be argued that this showed gold was extremely over-valued at the time.
The interesting thing is that despite its recent fall, gold is still only trading at 6 times the CPI.
Gold has a habit of returning back to its historical average of 3.4 times CPI. In fact, almost every market has a tendency to return back to its "mean" or "average".
If gold is heading towards its historical 3.4 x CPI average, that would mean that the price of gold is ultimately heading to $800 an ounce!
Of course, we can never be sure if gold is heading to that level. However, I personally agree with gold billionaire Jim Rogers that gold will not bottom until enough people become scared of gold.
My own personal target for gold is $980 and I will keep buying gold under $1000 until (and if) we hit $800.
Did this article help you? Do you agree with the analysis or do you strongly disagree? Let me know and leave your comment below.
For up-to-date analysis and coverage of the markets including gold and silver, try our trading alert service.