Not many people know about an indicator which has been right since 1932. It makes a surprising prediction about 2015 as I show in this interview with Zak Mir. See video:

The presidential election cycle indicator was discovered by Jeremy Grantham.
Based on results going back to 1932, this indicator says that the 3rd year of a US presidential term usually sees the biggest gains in stocks.
This indicator has only been wrong once which was during the second world war. However, the loss was only 1%, and if you counted dividends it would actually have been a winning year!
Take a look at the stock market results of this election cycle indicator for each of the presidential years: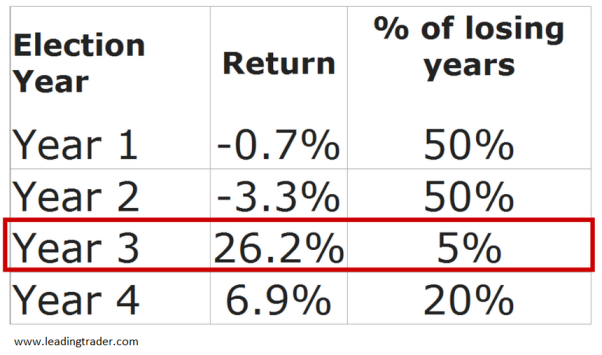 As you'll see, on average the 3rd year of the election cycle has gained 26%. That is a tremendous return!
By the way, two important thing to remember:
1) According to Grantham, each "year" of the indicator cycle starts in October – NOT in January (this is because October is just after Q3 of the financial calendar); and
2) the biggest gains in stocks are from the period of October to April.
Based on this, it means that year three of the current presidential cycle starts in just a few months: in October 2014.
Therefore, if this cycle repeats, we could be looking at yet another phenomenal year in stocks ahead of us after October of this year going into 2015.
It also means that unless we get a 10% or 20% correction in stocks this year (which is likely), it is improbable that we will see another one in 2015.
Did this article help you? Leave me your own comments about the video and this article below.