I got a strange call from my friend Bill today.
Bill does not trade stocks and never has. So I was a bit surprised when he said to me: "Alessio, the stock market closed above 1400 today. Should I be buying more stocks now?".
I had to explain to Bill that right now is the time to stay cautious and be patient for good reason.
Take a look at this chart of the VIX – known as the market's "Fear Index".
Notice that whenever the VIX reaches the bottom part of the red bands (bollinger bands), the stock market (S&P 500) forms a top and starts to sell off rapidly. The blue arrows show where the VIX formed a bottom and at the same time the stock markets formed a top.
The danger is that the VIX is right now almost hitting the bottom red bollinger band. This would indicate another probable top in the market.
Does this mean the market will sell off?
Take a look at this chart of the S&P 500, the index of the 500 largest companies in the world.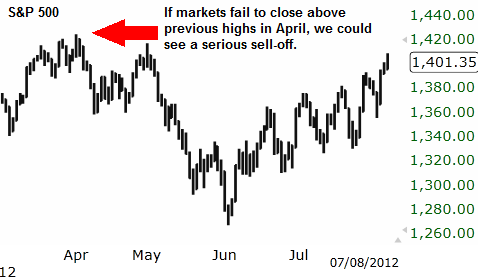 The chart shows that we are still a distance away from the highs we formed in April. If the S&Ps fail to close above the April highs, there is a danger that we could see some serious decline or selling – perhaps as early as this week.
The decline could take the S&Ps (ES) down to 1340 or perhaps 1300.
This is not all bad news. Traders can still use this as a great opportunity to short and profit from a falling market.
As for my friend Bill – he was acting just like the millions of people out there who act on emotion when markets go crazy.
In these situations it is best to wait and load up on stocks at a LOWER price instead of catching the dead highs.
For more information on how to trade the markets click here.
Also let us know your views and leave a comment below.