Something is not right…
Two important pieces of data do NOT believe in the stock market rally.
Let me show you what I mean.
Here's a chart of the Stock Markets (S&P 500) – the index of the 500 largest companies in the world: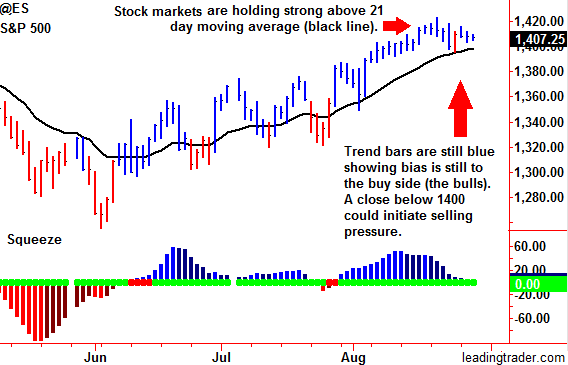 The above chart shows that stocks still stand firm above the 21 day moving average (black line) and the trend bars are blue. This indicates that the bias and pressure is still to the buy side (with the "bulls").
But something does not add up. Take a look at this: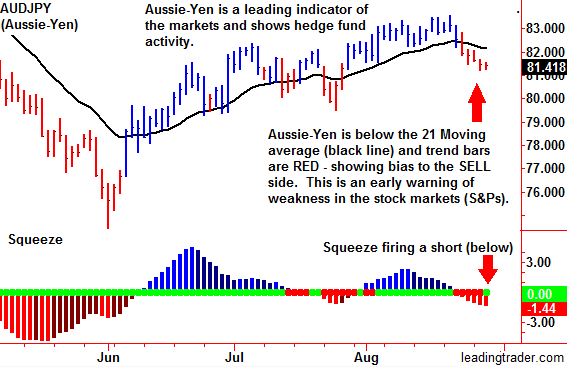 The "Aussie-Yen" (AUDJPY) is a very useful leading indicator of the stock market and shows what hedge funds are up to.
The above chart of the Aussie-Yen shows hedge funds are not buying into the stock rally. Price action is BELOW the 21 moving average and bias is to the sell side (the "bears").
Let's also examine another key leading indicator – the chart of the Transportation Index ("Transports"):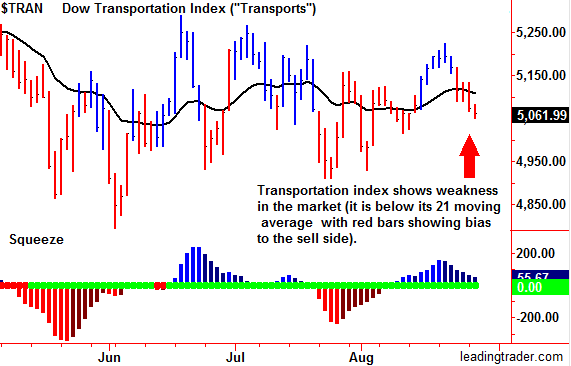 Why are we looking at the Transports?
The transportation index consists of 20 stocks involved in shipping and transportation – such as FedEx, UPS and Delta Airlines. Because transportation plays such a major role in the economy, this index is very sensitive to key shifts in the economy.
The Transports also do not agree with the stock rally. It has been showing weakness for many weeks. I have yet to see an instance where the Transportation index has not led the markets.
Clearly they cannot all be right.
Either the leading indicators are wrong, and the stock market will continue to rally higher. Or the more likely scenario is the truth: there is underlying weakness as shown by the Aussie-Yen and Transports, and we are getting prepared for a hard decline this September.
A close below 1400 on the S&Ps and below 13,000 on the Dow could be the catalyst the market needs for a fresh round of sell-offs.
For further information on trading the markets visit www.leadingtrader.com