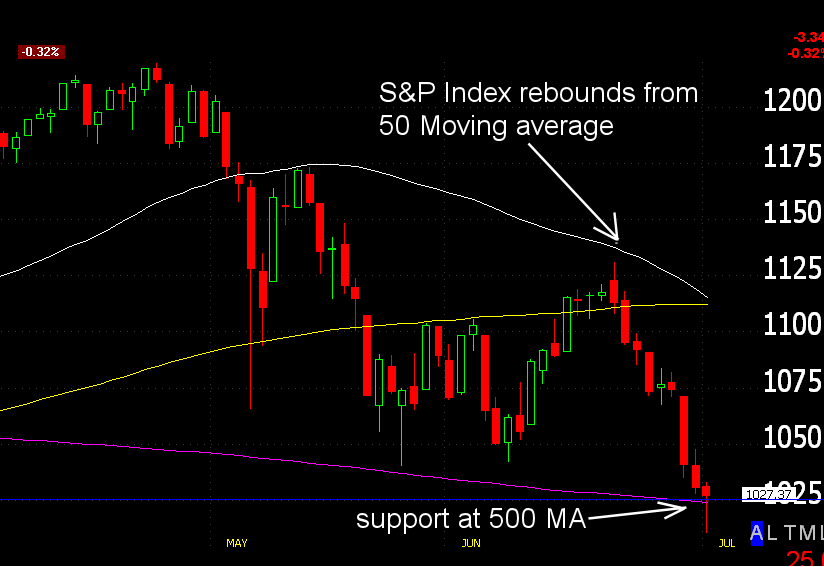 It astonishes me how some of the most experienced and well-respected traders that I know got it completely wrong two weeks ago about what the markets will do next.
In the middle of June, I heard a few trader friends of mine claim that we have now more or less entered "bullish" territory and that we should see the markets starting to rally back to their April highs.
While I was initially sceptical of their claims, which I must say took me by some surprise, I was willing to give them the benefit of the doubt.  In any case, as the S&P 500 and the Dow Jones bounced from their 50 day moving average (see above chart) and then began to sell off heavily on Wednesday.  By then it must have dawned on them that the great bear is still with us.
I think this example reinforces the uncertainty principle that runs in all markets and the fact that we should never make decisions on "opinions".   As the options trader, Guy Cohen, is fond of saying, you should "trade what you see" and not rely on the opinions of others, no matter how well-thought out they are.  In later blog posts I will go into more detail on this.
At the time of writing the S&Ps are resting on their 500 day MA support (the purple line in above image) which also corresponds to the November and October 2009 lows (the blue horizontal line).  It will be interesting to see whether these levels will act as support for the time being.
Certainly, the markets remain quite over-sold at the moment and while we may get a temporary bounce to the upside, hardly anyone is expecting this bearishness to end any time soon.  In the meantime, traders will have to prepare to put their helmets on.  Let's hope it's made of steel.