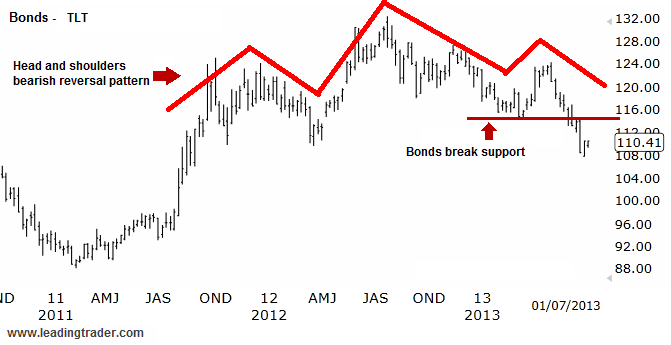 Watch this short 3-minute video:
I am bearish on bonds for the long term and in fact I have been shorting bonds since they topped back in early May 2013 (see video below).
However in the short term I am looking for a bounce or a pullback in order to get short again on bonds (30 year Treasuries or TLT).
The top 5 reasons why I am short on bonds and why I expect bonds will fall in the long term are:
1. Bonds have been in a "bubble" for several years;
2. Fed Reserve Chairman Ben Bernanke's statements that he'll taper or end the bond buying programme (QE);
3. Bill Gross (the "bond king") said that Bonds topped in April;
4. Bonds broke key support levels at 139 (see above video);
5. Bonds are making a head and shoulders chart pattern – a known bearish reversal signal (see video).
I would be looking to short bonds again at any rallies back to resistance – either at the 21 EMA (137 23/32) or at the break of support level at 139 15/32.
Here's the video I made back in May of this year where I initially got short on bonds – a few days after they topped.
For further updates and trade setups on bonds and other markets go here.