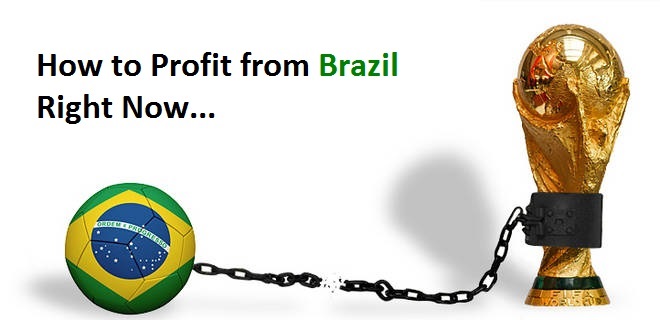 Brazil has seen a lot of attention recently due to the World Cup games.
Let's be honest. So far, very little about this year's World Cup has been predictable.
England, Italy and Spain who were the favourites to go through the first round have all been eliminated. Even though the England team tends to disappoint us in these big games, it is the first time they have been eliminated so early in the World Cup since 1958!
Most shocking of all was last night's humiliating defeat for Brazil as they lost 7-1 to Germany. Who would have expected that?
For me, there is little sense in gambling on the results of these games.
Instead, let's take a look at Brazil's stock market which is the focus of the world's attention right now and find opportunities – if any.
Brazil's economy is still classed as an "emerging" market, along with Russia, China and India.
This is the chart of EWZ, which is the ETF for the Brazillian stock market: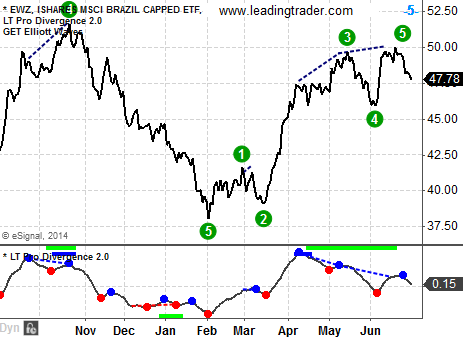 As you can see, Brazillian stocks (EWZ) made an attempt to break above $50. However, this attempt failed.
Right now we have negative or bearish divergence on Brazillian stocks (as shown by the Pro Divergence indicator). This shows weakness in the upward trend of EWZ.
Normally, a bearish divergence results in either a minor correction or the start of a new downward trend. Notice that the previous bearish divergence last year resulted in a massive 25% multi-month drop, and the one after it in a 8% drop.
We have also completed a probable Wave 5, from an Elliott Wave perspective. Wave 5 usually precedes a major correction or the start of a new trend (in this case a downward trend).
To my mind, the fact that EWZ has failed to make a new high – thereby forming a "double top" – plus all the factors that I've mentioned above, makes it more likely that Brazillian stocks are heading lower.
This makes EWZ ripe for a shorting opportunity.
Right now the best way to profit from Brazillian stocks is to short any rallies back to $48.50 to $49, with a stop just above $50.
You can also find the Brazillian stock ETF (EWZ) on the ETX Capital platform for trading – see the image below: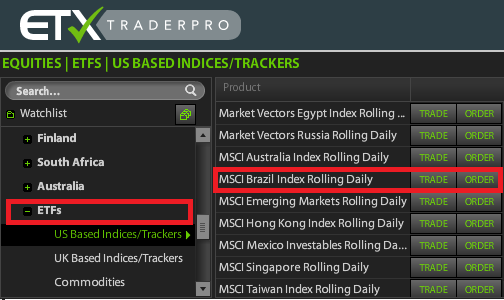 For more up-to-date and regular updates on profitable trades and opportunities, try our trading alert service.
Alessio Rastani is a stock market trader at www.leadingtrader.com