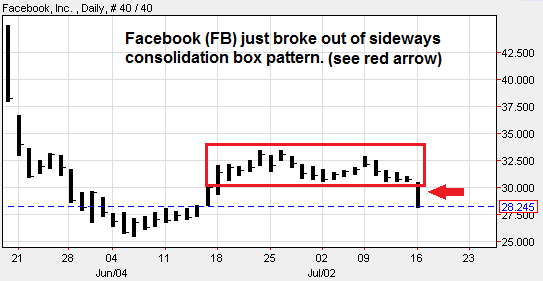 Get ready as Facebook shareholders are about to experience another round of pain (see video below).
Wall Street refuses to press the "Like" Button on Facebook, and probably for good reason.
So far Facebook has gone through two important phases:
Phase 1 – The Pump and Dump: Wall Street "BS artists" inflated Facebook's stock price to 45 and then dumped it on to the uninformed investors.
Phase 2 – Dead Cat Bounce: After the heavy sell-off down to 25 the stock finally bounced to 33.
On Monday Facebook just entered its next Phase:
Phase 3 – "Maximum Pain". As the above video shows, Facebook still remains overvalued with a PEG ratio of over 2.0. It is still relatively "expensive" when compared to its competitors (Google and Microsoft) and its own industry.
Facebook just broke out of a sideways consolidation "box pattern" with a squeeze. These breakouts from sideways ranges tend to be quite significant – and coupled with a squeeze are very powerful (see above video).
At the moment, any pullbacks to $30 or $29 are shorting opportunities with a potential target of 25. If Facebook takes out the lows at 25 then the next likely target is around the $20 region.
Did this video and blog post help you? What are your views on Facebook Stock? Leave your comment below.