Just a few words could kill the stock market's party tomorrow.
You see, since November when Donald Trump was elected president, stock markets have rallied higher. The S&P 500 is up 20%.
But all that could change tomorrow… The "Trump rally" could end with just a few words.
On Thursday the ex-director of the FBI, James Comey – who was fired last month by President Trump – is going to testify before a Senate panel.
The markets will be paying attention to see if Comey's testimony is going to raise damaging questions about President Trump.
Of course, Comey's testimony could amount to nothing important – OR they might just provide the "smoking gun" for the beginning of President Trump's impeachment.
What has this got to do with the stock market?
Well, because the "Trump rally" in the stock markets has mainly been based on Trump delivering a number of economic and tax advantages for businesses – including slashing coroporation tax down to 15%.
If investors begin to think that Trump is in trouble and could get impeached, then this will start the unravelling of the stock market rally… and possibly a major drop in the S&P 500.
No Trump means no tax cuts for businesses and the wealthy. This is not something that Wall Street wants to hear right now.
This is why James Comey's testimony tomorrow could matter – a lot!
And by the way, take a look at what our LT Time projection indicator is saying about the stock market: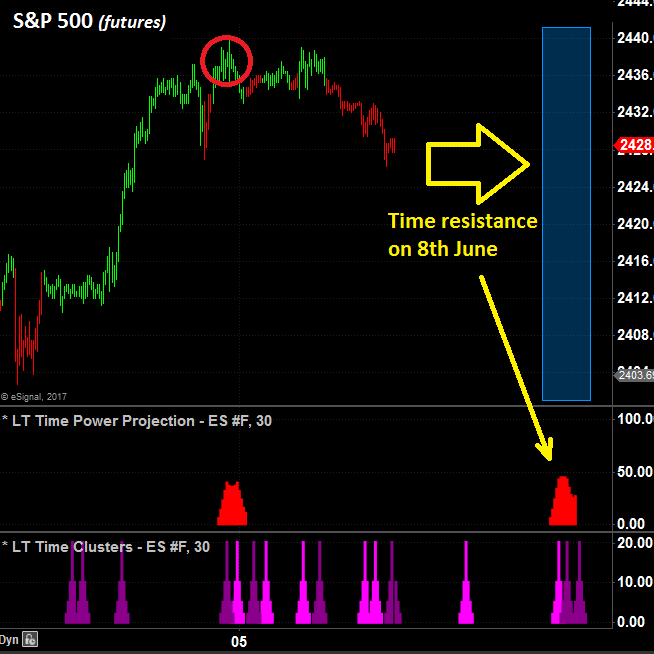 Our Time projection indicators says that we have time resistance approaching on 8th June – with another on 9th June (not shown on the chart).
Time resistance is like a wall: it can mean major turning points in the market or it could mean BIG moves in the market (negative OR positive).
My own personal opinion is that Comey's testimony tomorrow will be interesting – but I don't think it will be enough to sink the stock market.
I doubt we are going to see any "smoking guns" – BUT, it is still possible that Comey could produce some new information that we did not know before. If the new information proves to be damaging for Trump, expect a lot of volatility in the markets!
We just have to wait and see. Comey's testimony will start on Thursday afternoon at 3pm UK time (10AM Eastern).
We'll be watching… Good trading!
For more up-to-date analysis of the markets, try out trading service on www.leadingtrader.com