Gold's jump higher last week was phenomenal…
Last Thursday Gold managed to rally by 42 points in a single day. It is already up this month by 6%.
But while this may sound like a lot, it is nothing compared to my favourite gold stock which is outperforming gold right now.
In fact, this gold stock was leading the way higher almost 2 weeks before gold itself broke out to the upside.
I would go so far as to say that this little known gold stock is in fact my new leading indicator for the shiny metal itself.
Back in March I mentioned to you that one of my top gold stocks was Royal Gold (RGLD). This gold stock is perhaps the "Mercedes" of gold stocks, as a mark of its quality and fundamentals.
Royal gold is the safest kind of gold stock, because it is a royalty company. It is safer than buying junior gold mining stocks, and let's face it – most gold stocks are risky and total garbage.
Royal Gold is a gold-royalty company that is worth billions of dollars. It does not do any gold mining or exploration itself. Instead, it runs its business by investing in gold-mining projects and collecting royalties.
One way of thinking about Royal Gold's business model is like going to the bank and cashing the royalty checks. This is one of the best ways to run a business, and that's why I recommended this gold stock.
Take a look at this chart of Royal Gold (RGLD) against the gold metal: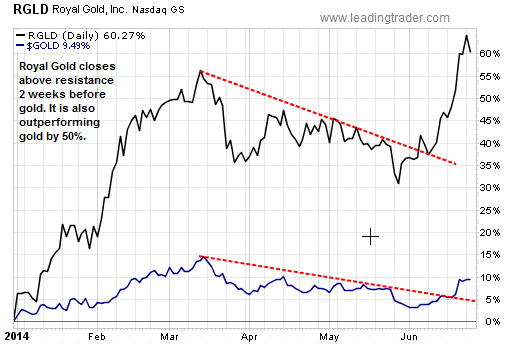 Notice that Royal Gold has been outperforming gold since the beginning of this year. Gold is up 10%, while Royal Gold is up 60% since January.
Importantly, notice that Royal Gold closed above its April lows and broke above its downward resistance line (dashed red line) 2 weeks before gold did the same thing.
So Royal Gold was already leading the way and indicating to us that the price of the yellow metal was about to go higher. To my mind, Royal Gold has been a reliable leading indicator for gold.
Professional investors are accumulating this stock at low prices and it is no wonder why: leverage and better returns than buying the metal itself.
If you missed the move on Royal Gold, I would wait for a pullback before buying more of this stock.
Alessio Rastani is a stock market trader at www.leadingtrader.com