Today I got a call from my Japanese friend and journalist, Kaz Ohno.
I'll never forget the first time I met Kaz 2 years ago. He took a plane from New York City to Washington DC just so he could interview me for an hour. I felt so guilty. He even insisted later on paying for the coffee and doughnuts!
Today he called me from Tokyo about a major news story which you probably know about. Specially if you've been watching the markets as closely as I have.
While the news media is constantly obsessed with the rising US stock markets, it has largely ignored an important factor in this rally.
The unsung hero of the rally in US stocks has been the crashing Japanese Yen and the sky-rocketing Japanese stock markets.
Take a look at this chart of Japan's Nikkei stock index: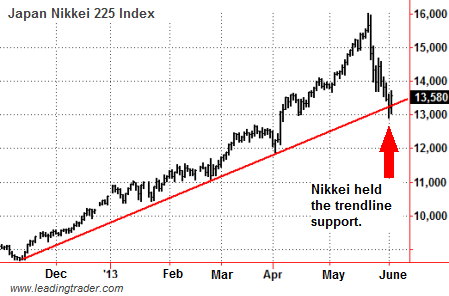 Since September of last year the Japanese yen has fallen by 23% and Japanese stocks have risen by almost 51% (at its peak it was at 77%!).
Compare that to the other world markets which have only averaged about 25% in the past 12 months (except gold) – see this chart: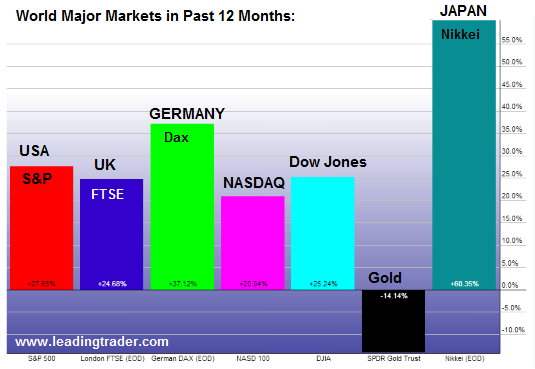 So what's going on and what does it mean?
It is no secret that Japan's economy has been suffering in a state of deflation for nearly 2 decades – with a gross debt of 240% of GDP!
In an effort to re-inflate the Japanese economy, the new prime minister of Japan, Shinzo Abe has opened the tap on printing money – also known as "quantitative easing" (QE).
Shinzo Abe is essentially betting that by devaluing the yen and pouring liquidity into its stock market it will reach a 2% inflation rate within 2 years!
It's a huge gamble and it seems to be paying off.
Already consumer confidence in Japan has increased with the biggest gains in retail sales in a decade.
The Economist magazine in London explains that Abe is trying to bring about inflation by psychological means. Once people expect inflation and higher prices, they will be shaken out of a deflationary mindset.
So here's where it gets very interesting for us investors…
If you have missed the initial part of this rally in Japanese stocks, don't worry – it is not too late. In fact, as you will see from the first chart above, I am treating the recent fall or correction in Japanese stocks as a huge buy opportunity.
In January and February of this year I started buying Japanese stocks (which I announced in my webinars at the time).
Now that the Nikkei index has tested its upward trendline (red line), it seems to be holding that level quite well.
And there is still plenty of upward potential. See this chart of the Nikkei from 1985 to 2013: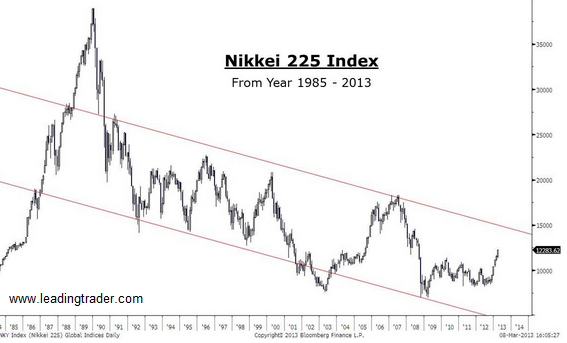 The Nikkei is currently at 13,500. We are not even close to its peak of just over 18,000 in 2007 – or its all time high of nearly 39,000 in 1989! I am not saying that it is going to go back to those levels again. But we are nowhere close to being in a "bubble" yet.
And let's not forget one very important man in all of this…
Shinzo Abe is not planning to close the tap on printing or QE any time soon. His approval rating in Japan has soared to 70%. He will likely take this as a green light to continue what he has been doing so far: pushing the Yen down and stocks up.
The best trades at the moment are long Japanese stocks and long USD/JPY forex pair (which is basically the same as shorting the yen). So any pullbacks or corrections are buying opportunities.
This is something I am looking to be in for the long term.
Investors who are looking to have exposure to Japanese stocks can either buy CFDs in Nikkei Index or consider EWJ, the ETF for the Japan markets (MSCI Japan Fund). Both can be found on the ETX Capital platform. The MSCI Japan fund has lower risk than the Nikkei which makes it slightly safer to trade. Spreadbetting is also another option.