A month ago I speculated as to how low gold prices will go. I came to the uneasy conclusion that the $1100 region was a likely target for gold.
A few days ago, Goldman Sachs came out and said that Gold could hit – get this – $1050 an ounce by the end of 2014! Ouch!
However, over the past month, I re-assessed my position on Gold, as I am sure you will know.
Firstly, by the beginning of June, all our gold barometers were oversold! In fact, take a look at this incredible chart of the gold bullish percent index: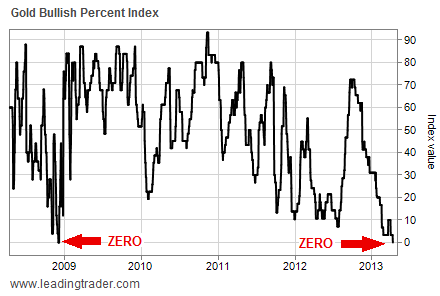 This gold barometer (and a few others) had hit zero! Sentiment towards metals had turned from bearish to extremely pessimistic – a contrary signal.
The last time that gold stocks were this oversold was back in 2008. Usually at these levels we would expect a rally in gold and gold stocks. In 2008-09 gold stocks rallied by 200%!
This is why in my June report I said to you that I was starting to buy quality gold stocks while they were still cheap and undervalued.
But did we get a rally in gold or gold stocks? Nope! We got zilch!
When neither gold or silver are responding to their oversold and extreme sentiment readings, this means something is wrong…
It usually means we are in a bear market in gold (and silver). Sellers are in control.
The fact that Ben Bernanke announced in May that he may taper or end Quantitative Easing (QE) by 2014 did not help gold's chances either.
Remember: as any good trader knows when the facts change, one has to change one's mind! Refusing to do so is not just irrational, it is dangerous.
When gold plunged lower last Thursday by 5%, I was stopped out of my gold stock positions for a small loss (although my short on gold went into profit).
I now believe that the next target for gold is even worse than that which Goldman Sachs predicts!
Gold at $1100? Try $980! Not next year. This year!
Before I explain why – let's first remember that lower gold prices will spell disaster for some gold mining companies and their stocks, as I warned back in April.
I'll tell you which stocks could be in serious trouble shortly.
But first let's take a fresh look at gold and see where it could be heading to. Take a look at this chart of gold: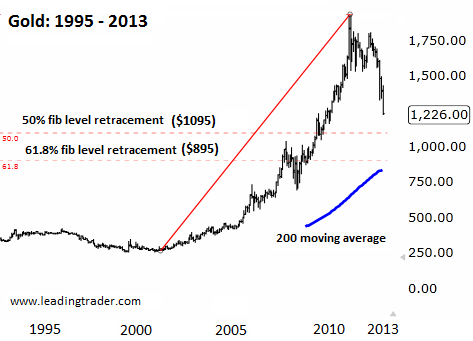 Now that we have broken some key support levels in gold, $1200 is going to be the next hurdle for gold to break.
If gold breaks $1200, there really is no major support until $1095 – which is the 50% retracement level on Gold (see above chart).
To be honest, I do not believe that we will see "blood on the streets" – in other words an extreme hatred of gold – until we hit $1000 an ounce for gold.
I am not the only one who believes this. Recently the gold billionaire Jim Rogers said that the gold correction is not over "until it scares a lot of people".
Knowing that gold tends to "exceed" the mark a bit, I would estimate that gold will go below $1000 and perhaps hit $980 – this year.
Notice by the way from the above chart that the 61.8% retracement of gold puts it at $895! I am not saying it will go to that level, but the zone from $1095 to $895 is an area I'd be looking to see fresh demand picking up for gold.
But many gold mining companies (and their stocks) will not be able to remain profitable at $1000 an ounce for gold. Some will either have to shut down – OR have to cut their dividends and spending for new mines.
According to some industry experts, the cost of production of one ounce of gold is on average $1200 an ounce. However, it is true that some gold miners produce gold at a cost much less than that (between $970 to $1160).
So which companies are under threat at $1000 gold?
We cannot be 100% sure of course, but we can have a good guess. I have a few contenders of my own which I have shown in red. See the table below: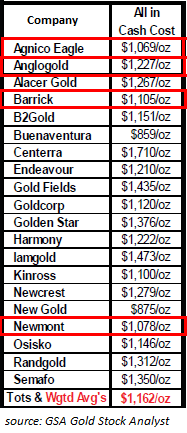 According to GSA analyst and famous gold investor, John Doody, if gold falls to $1000, the above is a likely list of miners that would shut production and cut supply at $1,000.
The stocks that are shown in red are the ones which potentially have "sacrificed growth for profit". Among the candidates are: Agnico Eagle (AEM), Barrick Gold (AU) and Newmont Mining (NEM).
My Leading Trader subscribers are already up 10% since I said to short NEM back in April this year.
Traders who want to take advantage of the likely falling prices in these stocks can either short the stocks or short CFDs in Market Vectors Gold Miners (GDX) on ETX Capital – our recommended trading platform.
Do you agree with the above analysis? Are you optimistic or pessimistic on gold? Leave your comments below.
For further updates on gold and other major markets every week, try our trade alerts.
Alessio Rastani is a stock market trader at www.leadingtrader.com .