This sounds insane, but it's likely to start today…
The European Central Bank is expected today to cut interest rates and force Europe into NEGATIVE interest rates for the first time in the eurozone's history.
Imagine paying a bank to hold your money for you.
Who would want to place their money in a bank to earn a NEGATIVE interest rate?
But that is the likely outcome of today's central bank decision.
Europe has been stuck in a deflationary nightmare and the central bank is resorting to desperate measures to bring about inflation by cutting rates and devaluing the Euro .
What are the consequences of negative interest rates? Let's see:
1. Savers are going to get slaughtered. People who have retired will lose money on their savings. It's awful.
2. People go into more debt by borrowing more (because it's extremely cheap to borrow).
3. Price of assets go up as people use their "cheap money" to buy.
You may be thinking that no country would be crazy enough to try negative interest rates. Think again.
Denmark has already experimented with negative interest rates since 2012. They are still below zero.
And it should be no surprise that people in Denmark are in considerable debt.
Unfortunately that is what happens when central banks artificially set interest rates below zero. It leads to debt, inflation and bankruptcy.
So what does this mean for the Euro currency? Take a look at this chart: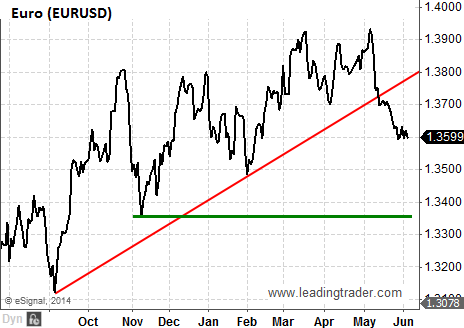 The Euro has already began to price in the rate cut by the European Central Bank. This explains the strong selloff since May as the Euro lost 3 cents.
As we head towards the ECB decision today, we could see the Euro move slightly higher into resistance near 1.3655 and 1.3677.
If the ECB does not disappoint expectations and announces the rate cut, we will most likely see the Euro head down towards 1.33 support (green line on the chart) in the coming weeks and months.
However, if the ECB decides to leave rates unchanged, then expect the Euro to rally higher and potentially test the trendline near 1.38.
For further up-to-date analysis on the markets try our trading service.