In just a few weeks, the British people are making a big decision.
The UK is holding a referendum this month on whether to remain in the European Union or not.
Some of the polls show that the result could be very close.
Whatever the result is going to be, this is the one currency chart you need to keep an eye on for a potentially big move…
Take a look.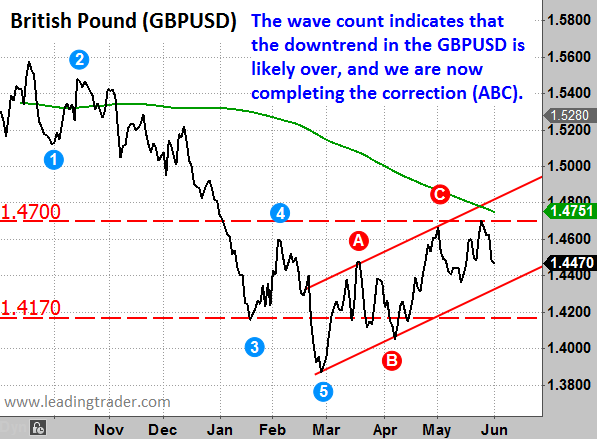 The above chart of the British Pound (GBPUSD) says a lot about what investors have been thinking and doing in the past year.
Uncertainties about the future of the UK led to the huge sell-off and downtrend in the GBPUSD.  Notice the 5 wave move from September 2015 to February 2016.
If there is one thing the markets hate, it is uncertainty!
What is interesting about the chart of the British Pound is this:
The GBPUSD most probably bottomed in February.  This was our wave 5 in the downward trend, which in Elliott Wave theory is the final wave in a major trend.
So the zig-zag rally we have seen in the British currency since February has been a correction to the downward trend- as shown by the ABC pattern (see above chart).
Right now the Pound is stuck between resistance at 1.47 and 1.4750, and support at 1.42 and 1.39 (the dead lows of February).
I think this month, before or after the referendum on June 23rd, we are most likely going to see the GBPUSD break out of this range.
But which direction is it likely to break out?
One thing we do know is that there are many people who are already bearish on the British Pound.  As in, too many people are betting against the currency.
This makes me interested in taking the opposite side of that bet.
This does not mean we are going to go long on the GBPUSD now.  We need to first see if support between 1.43 and 1.42 holds.
Aggressive traders can consider going long at support levels between 1.43 (the bottom of the rising channel) and 1.42.
However, conservative traders who are looking for a safer setup to go long on the GBPUSD, should wait until the Pound breaks through resistance and closes above 1.47 and the 200 MA (the green line which currently is at 1.475).
If we see a break above resistance, this could start a new uptrend in the British currency.
Of course, it is possible that the Pound could collapse and fall below February's low – which would continue the downtrend.  But based on what we see on the chart right now, and the GBP sentiment, the probability of that move is lower.
For more updates and analysis on currencies, try our trading service on leadingtrader.com