If history repeats itself, then we could expect a temporary bounce in the US Market Indices, and perhaps even a market bottom from here.
So far this month, the old saying "Sell in May, and go away" has proven to be a good strategy, with most stock markets down by almost 8% since their highs.
However, there are indications that the recent market rally could hold and there is a strong probability that the markets could form a bottom at this point.
Look at the chart below of the NYSE McClellan Oscillator (see chart):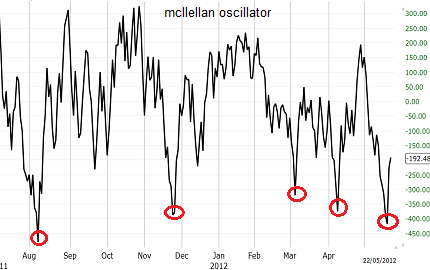 The McClellan Oscillator is an indicator that measures momentum and compares the overbought and oversold conditions of the market across a broad range of stocks.
Now here's the little weird trick to know about this indicator.
Whenever the McClellan dips below minus 300 this usually indicates an extreme oversold reading (and vice versa). Stock markets usually bounce at this point. The red circles show five times when this has occurred in the past year.
Here is how the S&Ps have acted each time this has happened: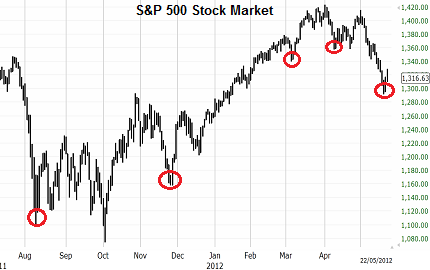 On Friday the McClellan hit a minus 419 extreme reading, indicating a temporary bounce. Now I say temporary because it is by no means clear yet whether this is a hard bottom in the market.
However, the downside on the stock markets is for the time being limited with plenty of upside potential.
I am expecting the rally on stocks to continue for the time being until the S&Ps hit 1338 (at the 21 period moving average), and then if we see some follow through, eventually to 1350.
It is also worth remembering that despite all the fear and gloom reported in the media, the stock markets have only pulled back to support levels.
For example, take a look at this chart of Apple (AAPL) which some analysts are calling the "new index" – because it leads most markets: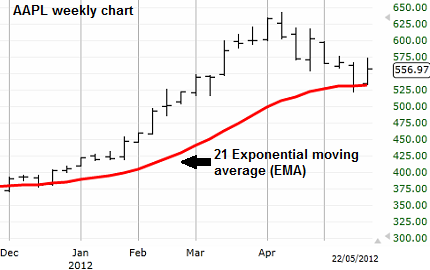 As you will see from the chart, even though AAPL has declined sharply, all it really has done is retrace back to its 21 Moving Average (red line) on its weekly chart, a strong area of support.
I expect this level to hold for the moment on AAPL and any pullbacks are buying opportunities.