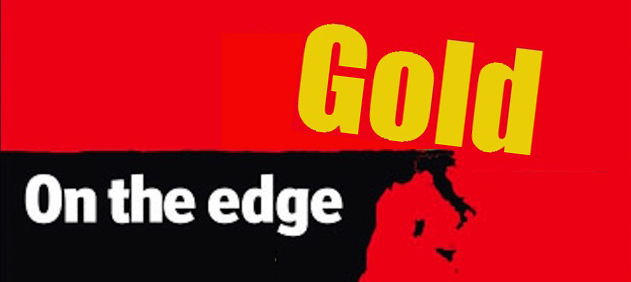 The recent crash in gold prices has had everyone talking about the yellow metal once again. Feelings towards gold is certainly mixed: from "bullish" investors who want to buy it cheaper, to those who have completely given up on it.
A week ago, a famous billionaire gold investor shocked his subscribers when he wrote in his newsletter that he is considering $1000 an ounce as a possibility for gold (his name cannot be mentioned for legal reasons).
So I am going to try and address the tough question everyone seems to be asking now… How low will gold go?
Before we look at the charts, let's first remember this about gold.
The cost to produce one ounce of gold is approximately $1200, according to most industry experts. Steve Letwin, CEO of Iamgold said: "It's going to be difficult for anybody to produce gold at less than $1,200 an ounce."
Therefore, $1200 is the "production cost" of gold. In fact, every commodity has its own production cost (the cost to produce a given unit of that commodity).
Why is this important?
Well, usually after a commodity goes through a prolonged crash, it tends to trade below its production cost. This usually lasts until the commodity becomes so hated and unpopular, that it finally bottoms out and starts a bullish rally.
Gold right now is trading at $1350. So from a purely fundamental perspective, we are still another $150 away from its production cost target of $1200.
Now let's look at this important chart of gold: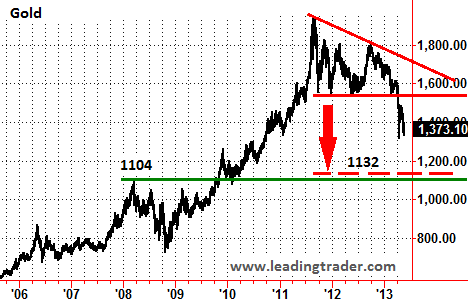 As you can see gold was inside a triangular pattern for 19 months until it finally broke below it in April. According to chart theory, if price breaks a triangular pattern, it typically "travels" a distance equal to that of the height of the triangle.
Since the height of the triangle was $408, this puts our target for the distance that gold may move to at $1132. This is shown in the chart by the red arrow and dashed lines which represent a 100% projection of the height.
Also, we have strong support at the previous highs gold made in March 2008 at the $1104 level (green line).
Therefore from a "technical" perspective, it would appear that we have a confluence (or merging) of levels at between $1104 and $1132 where gold may potentially find support or "bottom".
Both levels are below the $1200 production cost of gold which, in my view, adds another flavour of probability to our calculations.
Of course, we must also allow for unforeseen variables.
Gold is strongly influenced by the US Dollar. I expect the US Dollar to maintain its strength and continue to rally in the short term. This will put further downward pressure on metals.
Fed minutes due to be released today on Wednesday could also have a major impact on gold. If the Fed is signalling a withdrawal or slowing of stimulus or quantitative easing we could see gold continue its decline and for the dollar to rally.
You can catch our up-to-date forecasts and updates on Gold and Silver by trying our Trading Alerts.
Alessio Rastani is a stock market trader at www.leadingtrader.com.