Last week I said that I expected gold to break higher.
One of the main reasons for my view was that many investors had turned against gold. According to reports, even some of the big gold money managers had "given up on gold".
We all know what happens when everybody expects the same outcome. The market usually responds by doing the exact opposite…
That is exactly what happened last Friday…
Gold rallied by 15 points on Friday and broke out of its pennant pattern as we had expected.
However, while gold bulls may have won this initial victory, there are still some further hurdles ahead which you need to be aware of.
Take a look at this chart: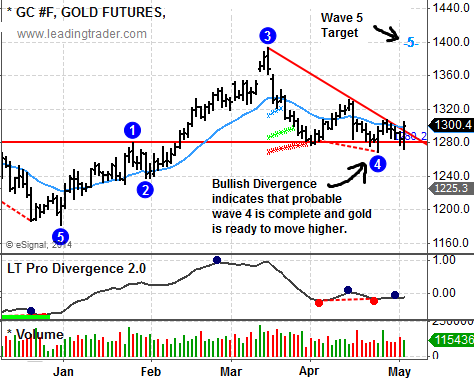 Notice that while gold broke above its downward trendline (and pennant pattern), it stopped short of closing above $1300 – a psychological resistance level. It also did not close convincingly above its 21 EMA (blue line), another key resistance level.
Also, the volume on the upward move was average. This indicates that there probably was not much conviction behind the buying.
However, the chart for gold still looks bullish:
Gold is completing its wave 4 – as shown by the bullish divergence signal. It is also still maintaining itself nicely above $1280, which is the end of wave 1.
Remember that in Elliott Wave theory, wave 4 must NOT close into the territory of wave 1.
If this wave count is correct, then gold should move towards its logical wave 5 target of $1400 (see above chart). That is a 100 point move from here and would deliver us a 8% return.
You're probably wondering at this point: "Well, what happens if gold suddenly goes the other way and closes below $1280?".
That is possible of course, although I don't expect it. Gold is a heavily manipulated market.
If gold drops and closes below its $1280 support, then the outlook in the short term is not that good. Sentiment will sour further towards gold, meaning that more people will panic sell their positions.
Take a look at this chart of gold sentiment: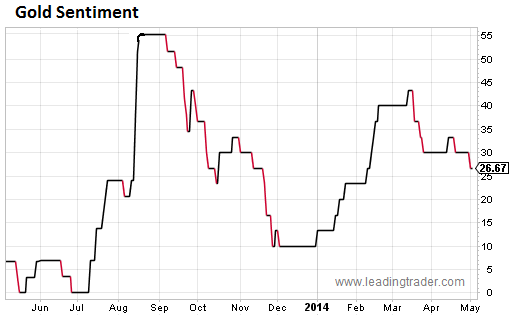 You can see that sentiment towards gold has already been falling since the metal peaked in March. If gold breaks support at $1280, then we can expect more investors to turn against gold.
This means that the gold sentiment index (above) will continue going lower. While this is good for gold's long term prospects, in the short term it will mean a further drop on gold to $1250 and most likely back to $1200.
At the moment however, we have a low risk, high reward long setup on gold, unless the market tells us different.
For further detailed analysis of the major markets (including stock indexes and forex), you can join our newsletter by clicking here.
Alessio Rastani is a stock market trader at LeadingTrader.com