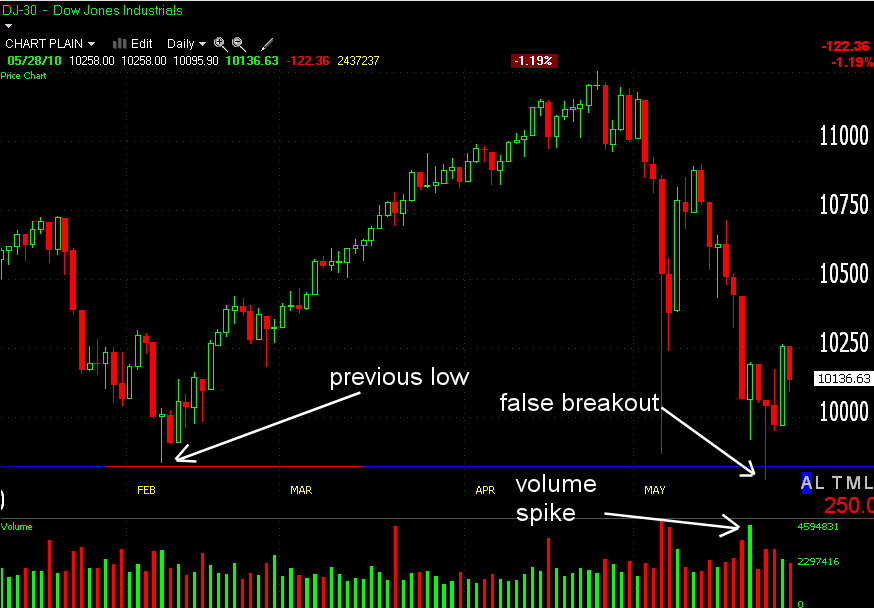 If you had logged onto your computer and observed the markets during the early hours of Tuesday morning, you would have seen a far bleaker picture than the one you would have seen some seven hours later.
The Dow and S&P played their famous game of cat-and-mouse with traders, penetrated the February lows, only to retreat and close back into familiar territory.  It's a bit like a Punch and Judy show where one of the puppets pops up and says "hellooo!" only to disappear and never be seen again.
Looking at the chart today (see above) only a few days later, could we also be seeing the tell-tale signs of a false downside breakout?  And why should this be significant?
Over the last few weeks the major US and UK markets have had quite a beating given everything that was happening in the eurozone.  The huge sell-offs  have brought forth unprecedented over-sold readings (see video below) which  have prompted speculation as to when we may finally reach a bottom.
The trader and best-selling author, Alexander Elder, writes in Sell and Sell Short that a false downside breakout is "one of the most bullish signals in technical analysis".  This scenario arises when the stock market breaks key support levels (e.g. the previous lows in February) and then changes its mind and closes above support again.
Given that the Dow rallied by nearly 3% on Thursday (although on moderate volume) and that it followed a recent spike in volume (usually a bullish signal), could we now be witnessing another Punch and Judy moment?  It is certainly arguable that it could be an Elder-style false downside breakout.  If so, Tuesday's lows could well be a bottom on the stock market, at least for now.  However, it is by no means indicative that we are going to suddenly return to bullish territory.  Only time will tell.
For more detailed analysis, watch my short video market commentary below (allow a few seconds for the video to load):