Facebook (FB) stock is down nearly 33% since the day of its launch on May 18th.
On that day I wrote an article in Index Trader Magazine about the curse of web IPOs.
But I don't think there was any need for my warning. The extreme excitement and hype surrounding its launch should have been warning enough for anyone.
Facebook Stocks – Next Target?
I personally believe that Facebook is headed towards $22 – as a minimum. Almost half it's price at its initial public offering.
Why?

Because most IPOs have a history of halving in price from the day of their launch, usually within the first few months.
Some famous examples are:
Linkedin (LNKD) – dropped from its highs of $120 on its launch date to $60 in 22 days (a 50% decline);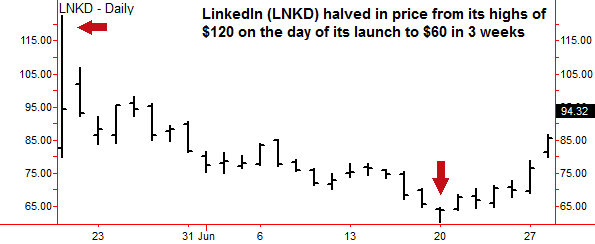 Groupon (GRPN) – crashed from $31.14 to $14.85 in 3 weeks (a 52% decline);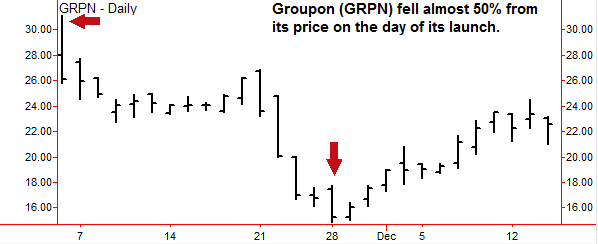 Other examples are:
Yahoo (YHOO) – dropped from $1.50 to $0.70 in its first three months (a 53% decline);
Amazon (AMZN) – fell from $2.50 to $1.31 in 6 days (a 48% decline).
So what about Facebook? If history is anything to go buy, I say let's wait and catch Facebook at least half price.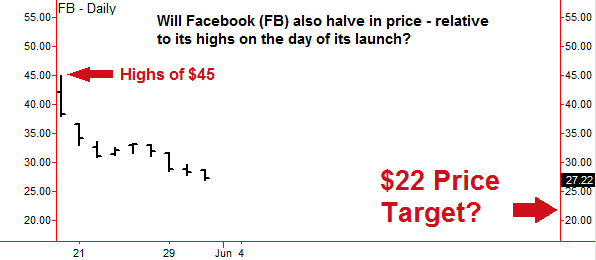 Any other idea is a sucker's game in Wall Street's game of muppets and muppet masters.
Did Facebook pass the "The Stupid Test"?
None of the above "analysis" really helps the sad but true story of a father who took money out of his daughter's college fund to buy her Facebook shares. Stupid or not, you have to be inhuman not to feel sorry for that poor little girl.
However, it is worth remembering Jeff DeGraaf's formula for the "Stupid Test":
1. It is impossible for everyone to be wealthy.
2. It is impossible for everyone to get wealthy following a similar strategy.
3. Stable strategies tend to attract everybody.
4. See rule 1 to clarify the problem of rule 3…
For more information about trading the markets and getting started, feel free to join us on our Leading Trader Community.