The Australian Dollar (AUD/USD) has just recently fired a bearish squeeze on its weekly charts!
A "squeeze" is a PULSE movement which is like releasing energy or momentum into the markets. This "pulse" occurs when markets shift from a period of low volatility to extremely high volatility.
But what does it mean for the AUD/USD and how can you trade it? Take a quick look at this chart: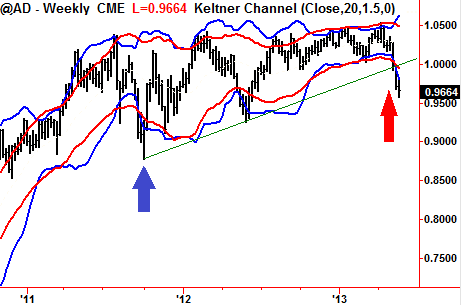 You will see the red arrow pointing to where the bollinger bands (blue lines) are exiting the keltner channels (red lines). This is the first sign of a squeeze or pulse firing. Since the momentum is to the downside, this is a "sell short signal".
Now for the really interesting part.
Usually when such a "squeeze" or "pulse" signal occurs on a weekly chart, it tends to last for several weeks – typically 8 to 10 weeks. However, the last time such a signal occurred was back in September 2011, and it lasted for only 3 weeks.
We can also see that the AUD/USD has broken through a key support level as shown by the green trendline. This confirms the break of an upward trend.
The Aussie-dollar has been under pressure in recent weeks after the Reserve Bank of Australia cut its benchmark rate to a record low of 2.75 percent (which is 500 basis points below RBA's rates of five years previously).
Pouring more fuel to the fire is the fact that George Soros has shorted the currency. George Soros famously made billions by sinking the British Pound in 1992 – a day which the British mourn as "Black Wednesday".
Making matters worse for the Australian currency is Goldman Sachs' call last week that AUD/USD could fall to 0.8000, or an almost 24% decline from the mid-April top.
The crash in gold prices has not helped the AUD/USD either. Australia is the third biggest gold producer in the world, shipping out $5 billion worth of gold every year!
See this chart of AUD/USD (black line) against Gold (red line):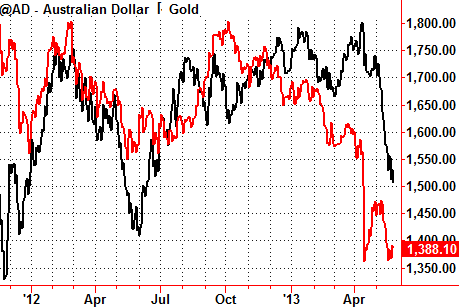 AUD/USD has had a very close correlation to the price of gold (about 80%).
Conclusion:
My strategy on the AUD/USD for now would be to use the "weekly squeeze" or pulse as an opportunity to short the currency.
Of course, now would NOT be a good time to short it as it is already pretty extended to the downside. I would wait for any rallies back to parity at $1.00 or the trendline break (green line) for a shorting opportunity.
For daily updates on Forex and stock markets, try our trade alerts.
Alessio Rastani is a stock market and forex trader at www.leadingtrader.com