Apple (AAPL) managed to break above its downtrend line this week: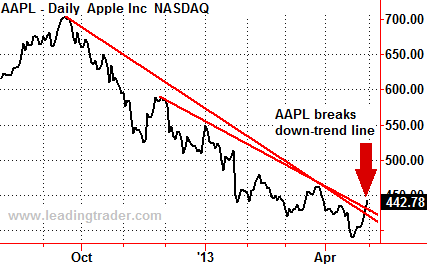 This is actually quite bullish for Apple. Does this mean Apple is coming out of its downward trend and will resume the rally back to $700?
It is hard to say. However, I'd still remain cautious about buying. Usually markets tend to "re-test" their breakout point or previous lows (double bottom) before reversing into an uptrend. So a re-test of the lows near 400 or 390 should not be ruled out.
Furthermore, I am also cautious about buying stocks in general as we are nearing a correction. The Nasdaq made new all-time highs today and while that is bullish for stocks, it usually precedes a correction.
More on that in the next soon…
Alessio Rastani
www.leadingtrader.com