Stock markets are facing a lot of headaches right now:
1) The next earnings season is just around the corner…
2) The threat of rising interest rates from the Central Bank.
3) And now the threat of a "new cold war" with Russia.
But one chart shows what the stock markets are REALLY "thinking"…. and where they could likely go next. Take a look: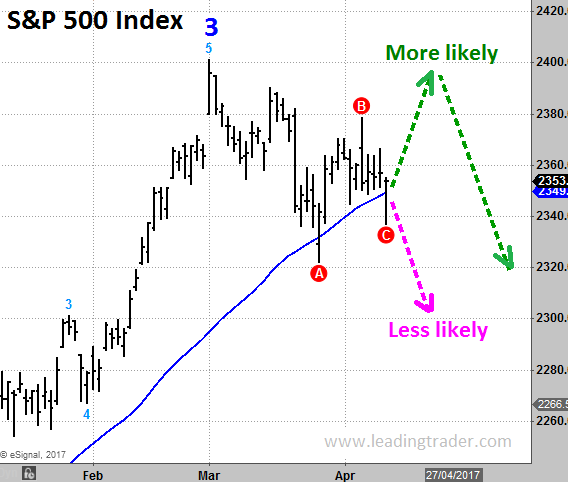 You will notice that yesterday the S&P 500 stock index once again bounced off a key level – the 50 daily average or 50 MA (blue line).
This is the exact same level that held the stock markets last month.
What is interesting is that although price had dipped below the 50 daily average, it closed ABOVE this level – which is bullish.
Elliott Wave Theory says that we are most probably completing a temporary correction called "wave 4" (as shown by the ABC waves on the chart), before starting a wave 5 move higher.
I have drawn on the above chart two paths for the stock market:
The most likely path is that we rally from this support level towards the 2390 to 2415 levels. But I expect the stock markets to find weakness at these levels and then drop back down to 2320-2300.
And here's a chart which supports this view: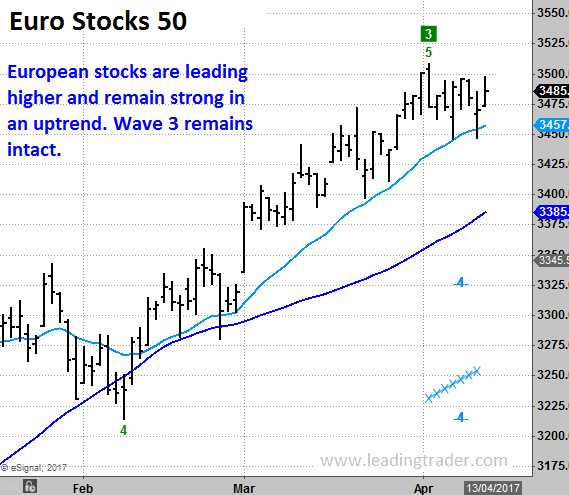 One of the best leading indicators for stocks right now are the European Indexes – such as the Euro Stocks 50 (above chart).
Euro stocks remain strong (still above their 21 EMA) and are leading the markets higher.
As long as the Euro stocks remain in this strong uptrend, it is unlikely that we will see much selling pressure in the US markets – and this puts our levels for the S&P at 2390 to 2400 as likely upside targets.
By the way, keep your eye on the 2370 level on the S&P – because this is also a near resistance on the S&P. If stocks get to this level but fail to close above it, they could be in trouble.
In the above first chart I have outlined a less likely scenario (shown in magenta). If the S&P fails to rally and instead drops below 2320, look for further weakness down to the 2300 to 2280 levels. But as long as we remain above 2320, the odds of another rally higher (wave 5) remain strong.
For up-to-date information on stock markets and the S&P, try our trading service on LeadingTrader.com