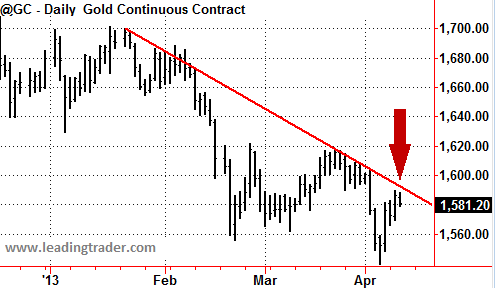 An interesting development announced today: Goldman Sachs analysts have slashed their 2013 forecast for Gold prices from $1610 to $1545, and for 2014 from $1490 to $1350. In fact they have predicted that Gold will close at $1270 an ounce in 2014!
Either this forecast is reliable, in which case it will come as a godsend to investors who want to buy gold (and silver) a lot cheaper.
OR… this is about as reliable as Goldman Sachs' prediction in May 2008 that Crude Oil was heading from $140 to $200 a barrel – when soon after Oil prices plummeted to $60 a barrel.
For me personally, I'd be looking to short gold at any rallies back up to $1590 or $1600. My initial short term target for Gold in the next few months is $1520.
Tell us what YOU think about this Goldman Sachs announcement. Do you agree with the forecast? Or is it just a cynical attempt by a major financial institution to drive gold prices down and therefore buy it cheaper?
Leave us your comments below…