Which precious metal is considered to be worth MORE than gold, but is currently CHEAPER than gold?
In fact, this commodity is considered to be the "Mercedes Benz" of precious metals, due to its quality.
And right now, this metal is trading at a $275 discount to gold…
Plus, we have a potentially big trading opportunity on this metal.
Today, platinum is cheaper than gold:
* Silver is at $15 an ounce
* Gold is at $1257 an ounce
* Platinum is at $981 an ounce
History tells us that whenever platinum has been cheaper relative to gold, it has done very well going forward – in fact, by 18 months later platinum NEVER underperformed gold again.
Why is platinum so cheap?
Last year, due to the VolksWagen scandal which showed that they were deliberately manipulating their car CO2 emissions, demand for cars dropped.
Platinum is mainly used in car catalytic converters.  When demand for cars fell, this negatively affected the price of platinum.
Now take a look at this chart of platinum: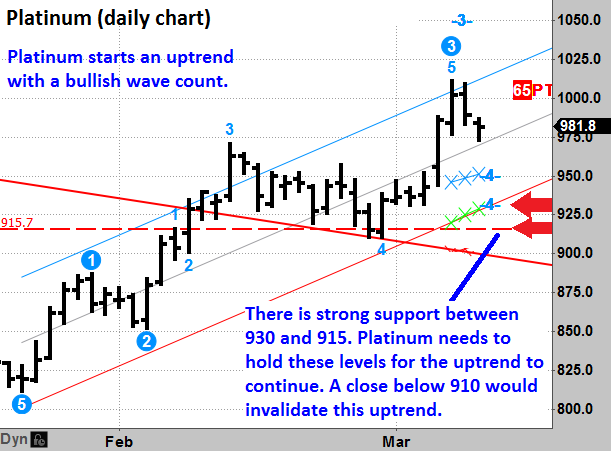 We cam see that in February, platinum broke above a key downward trendline at $925.  This helped start a Wave 3 higher – which is the strongest part of an upward trend.
Platinum is rather overbought right now. Two days ago it hit the upper part of its regression channel (blue line) and is pulling away to the "mean" – or its average price.
We need platinum to come down to support between 930 and 915 (shown by the red arrows) and HOLD these levels before it becomes another long trading opportunity.
If platinum can hold and bounce from these support levels, this will mean that the uptrend will likely continue with potential targets at 1025 and 1050.
However, if platinum falls below 910 and closes below that level, then the uptrend is no longer valid – and we could see platinum heading lower down to 850 and possibly 800.
For more up-to-date market analysis try our trading service at www.leadingtrader.com