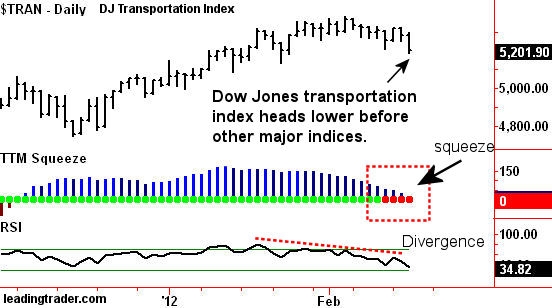 While most of the major stock markets have been ploughing higher this week, one key market index has not followed suit. The Dow Jones Transportation Index has in fact dropped by 4% since last week.
Why does this matter?
This is because the Transportation Index (or Transports) are composed of stocks that are sensitive to swings in the economy and it is viewed as a leading indicator of the stock markets and the general economy (see video below).
In simple terms, when goods are manufactured they need to be shipped and transported elsewhere for consumption. Therefore demand for transportation of goods is directly linked to the functioning of a healthy economy.
The Transports therefore hold a unique position as a leading indicator, so it is important to keep an eye on it. In fact, I have yet to see an instance where the Transportation Index has not led the other markets.
As the above chart shows, the Transports have been showing divergence on the Relative Strength Index (RSI) – while the Index made new highs, the RSI failed to make new highs – indicating weakness in the trend. We also have a squeeze forming, which could mean that the next move on the markets could be pretty explosive and volatile.
At the time of writing the transports have already broken through their Friday lows of 5214 and are heading lower. This could be an opportunity to look for shorting setups on the major markets.
If the Stock Markets do start to roll over, we could see the S&Ps (ES) head towards 1300 or possibly the levels at the beginning of the year.