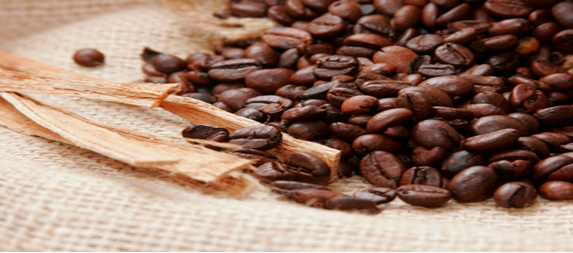 The next time you buy a cup of coffee, you may find you're paying more for the same cup of the brown liquid.
That's because the price of coffee is starting to rise after falling 70% since 2011. An upward trend in coffee is now beginning.
This also means that 2014 will be a great year to trade coffee and make big gains from here.
Take a look at this chart which shows how coffee has made an important breakout and where it could be heading to next: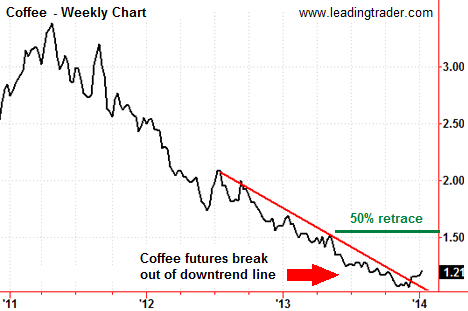 Coffee has broken above its downtrend line (red line). This is a strong signal that the 3-year downward trend in coffee prices could be at an end. Coffee is trading right now at $1.20. If the momentum continues, then look for a rally to $1.56 (green line).
Bloomberg reported that 40% of the coffee crops in Brazil may have been damaged as a result of the unusually heavy rain in December. Brazil got 25.6 inches of rain in December, more than triple the normal amount for the month.
Traders have been alerted that the huge crop targets that were previously expected will now not be achieved.
So when is the next best chance to buy coffee futures and make this trade? Take a look at the daily chart of coffee: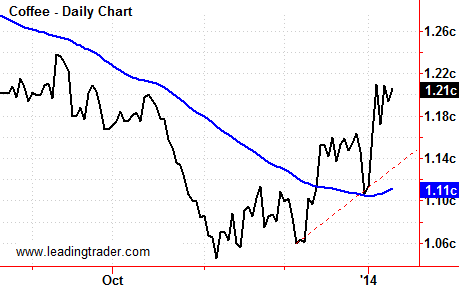 Coffee prices jump by 14% in mid-December. This was good because it pushed coffee above its 50 moving average (blue line) – a bullish sign that indicates higher prices. Coffee then re-tested its 50 MA at the end of December before rallying to $1.20.
If you missed this move in coffee, don't worry. Markets usually present traders with a second chance. Your next chance of entry would be a pullback to its upward trendline (dotted red line on the chart). This puts it around the $1.15 level.
If coffee then rallies to its next resistance level at $1.67, then we're looking at a potential 45% move from here.
Coffee futures can be traded very simply from our trusted broker ETX Capital trading platform under the "commodities" section.
For more up-to-date trade ideas on the markets try our video newsletter service.
Alessio Rastani is a stock market trader at www.leadingtrader.com