Gold has had an incredible start this year…
It is already up nearly 10% this month, and that is despite a very strong US Dollar!
One of the reasons behind gold's recent surge is because of what is happening over in Europe and Russia…
Investors are naturally nervous about the situation in Europe. Even if we forget the recent Greek elections, Europe is still facing the threat of deflation and negative interest rates.
The huge money printing (or QE) that Europe's Central Bank is now doing has left no safe haven for investors, except the US Dollar, US bonds… and gold.
Then comes the situation in Russia which is rapidly getting worse: the plunge in oil prices, the collapse of the Russian Ruble, and now Russia's credit rating has been reduced to "junk" status.
Again, gold thrives in these uncertain times in Russia.
So where is gold heading next? Let's take a look at this chart.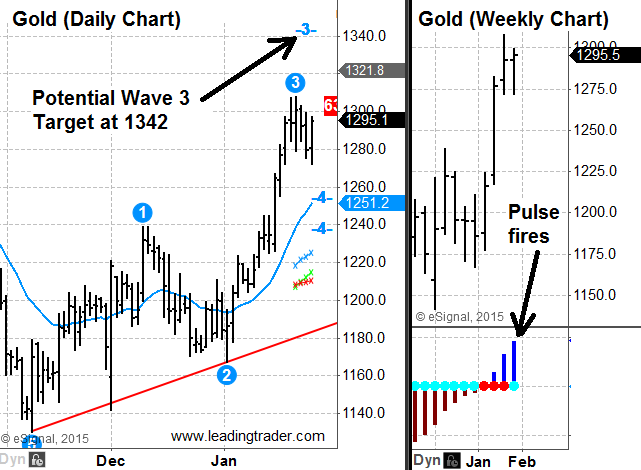 Gold has started a new upward trend as we can see from the series of higher lows and higher highs in the above chart.
We also see a pulse signal has just fired on gold's weekly chart! This means a potentially bigger move is setting up in gold – as long as gold does not drop below 1250 this week.
If gold can keep its upward momentum this week, we could see the shiny metal move to its "Wave 3" target at 1342 (see above chart).
Elliott Waves show the "psychology of the crowd" – and let's face it, there's a big "crowd" of people who trade gold.
Let's also take a look at gold's "leading indicator", platinum: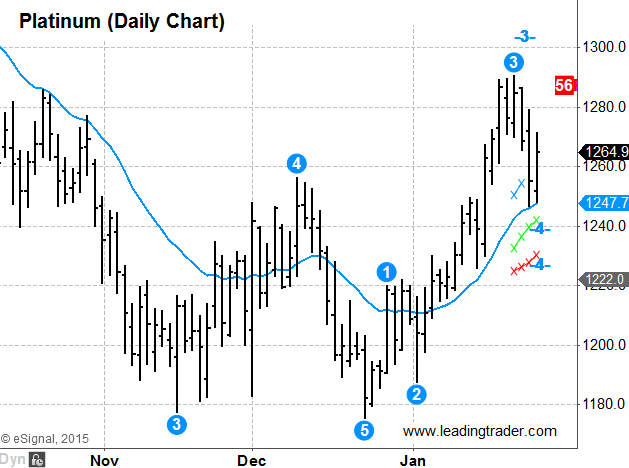 The chart of platinum also looks bullish. Despite a fall in price on Monday, it managed to recover and hold its support at 1250.
The elliott wave count for platinum indicates that we could potentially move higher to 1302. This is a good sign for gold.
Another good sign for gold is that the US Dollar is finally showing signs of weakness. The dollar is extremely overbought and has not had a pause since December. It is now overdue for a pullback.
If we see the US Dollar come down this week, this will put upward pressure on precious metals.
A good way to get positioned on gold is if it comes down to support between 1250 and 1240. Of course, there is no way of knowing that gold will come down to those levels, but that would be an ideal level to get long.