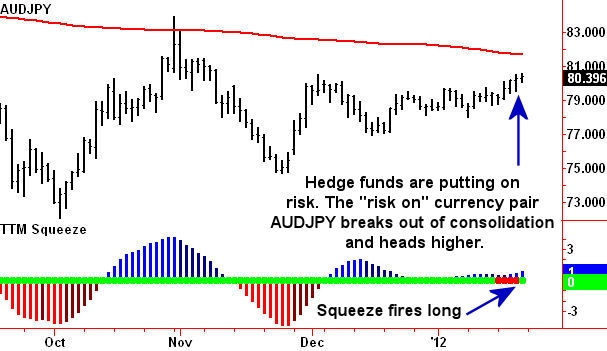 One of the markets I watch in order to see what the hedge funds are doing, is the AUDJPY currency pair (also known to forex traders as the "carry trade").
The relationship between the AUDJPY and the stock market is a subtle and interesting one which is often wrongly ignored by traders. In fact, in many instances, the AUDJPY pair has acted as a leading indicator of the stock market, revealing whether hedge funds are putting on risk (rising AUDJPY) or taking off risk (falling AUDJPY).
The above chart shows this currency pair breaking out of a sideways consolidation. This is also accompanied by a squeeze signal firing to the upside (the squeeze is indicated by the red dots turning green).
The significance of the squeeze here could mean that the next move on the AUDJPY – and hence the stock market – could be an explosive and volatile one. A rising AUDJPY means that the hedge funds are putting risk back on, indicating further (albeit perhaps limited) upward pressure on the stock market.
The Dow hit the 12,600 level today and the S&Ps (ES) brushed the 1311 mark. The AUDJPY pair will face resistance at 81.50 level corresponding to the 200 Moving average (red line).