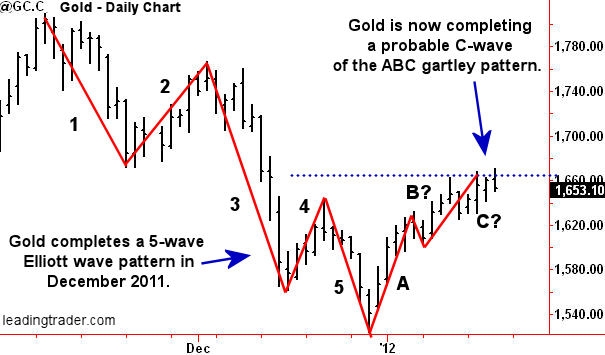 You will notice from the above chart that Gold completed a 5 wave trend – a down trend which started on 8th November and completed on December 29th.
For traders who are not familiar with Elliott Waves, this phenomenon is explained briefly by the fact that when markets trend, they are typically formed of 5 sections, or "waves". The 3rd Wave is usually the longest wave, and the 5th wave is usually a signifier that upon its completion a major correction is to be made to the previous trend (see video below).
According to this theory, corrections are formed of 3 sections, also known as a "Gartley" or ABC (see video above). Corrections are typically 50% or 61.8% retracements (also known as fibonacci retracements) of the prior 5-wave trend.
Given this information, it is quite probable that Gold is now completing its final C-wave correction at the 1670 level. Confirmation of this pattern will be made if Gold takes out its December lows.
Gold is certainly going to have a tough time breaking through the wall of resistance facing it right now (see video), in which case a shorting opportunity can present itself soon.